FAQ: Unicity Balance Fiber Frequently Asked Questions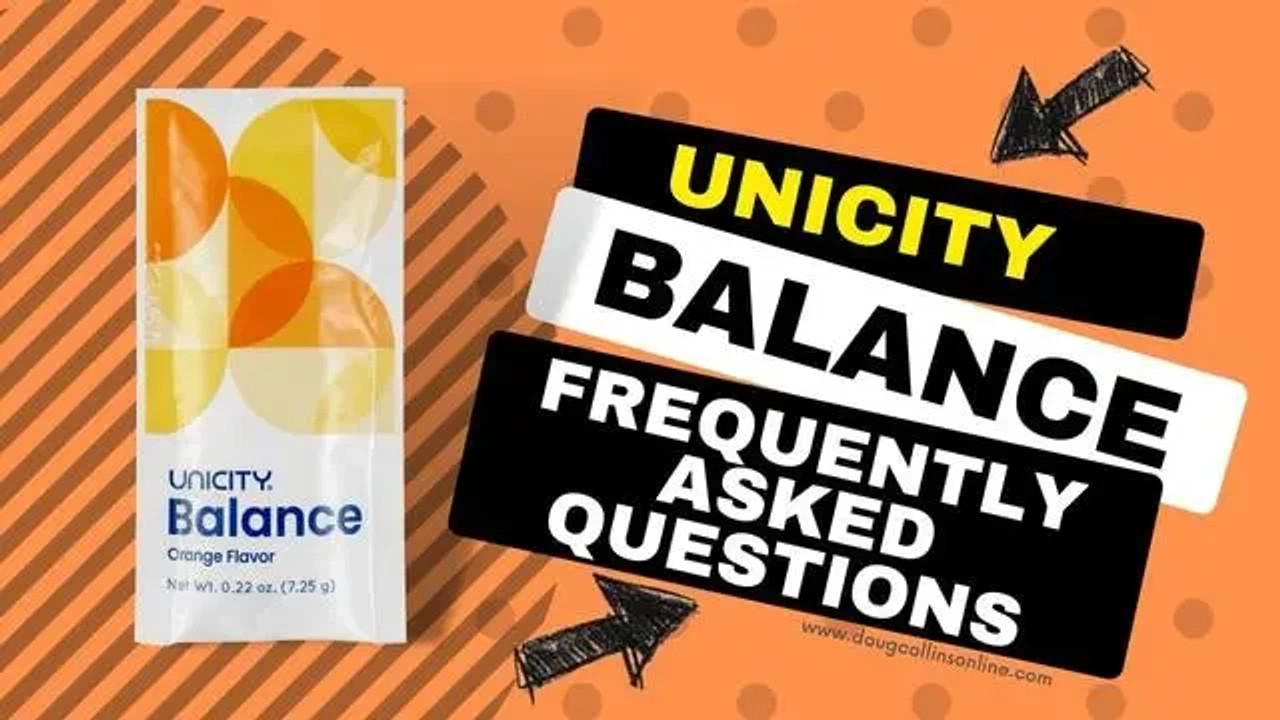 Unicity Balance fiber matrix is a clinically proven dietary supplement formulated to help your body burn fat and support healthy cholesterol levels. Derived from natural ingredients, the proprietary blend in Unicity Balance is a safe and simple way to encourage weight loss, increase energy, and better control your blood chemistry.
To help you enjoy the very best experience with Unicity Balance (and/or The Feel Great System) I have compiled the most extensive list of Frequently Asked Questions you will find anywhere. To order Unicity Balance visit my worldwide Buy Now page.
Be sure to check out these other FAQ pages:
Disclaimer: The information on this FAQ page is not intended to replace a one-on-one relationship with a qualified health care professional and is not intended as medical advice. It is intended as a sharing of knowledge and information from decades of research and experience of Doug Collins and his community. Visiting this FAQ page constitutes your acceptance to the Term of Use and Copyright of this website. You may not copy, reproduce, republish or duplicate any content on this FAQ page or anywhere else on this website, including the layout, design elements, images, blog articles and verbiage, without prior written approval from Doug Collins.
---
Frequently Asked Questions
How does Unicity Balance work?
Balance reduces your hunger cravings and helps your body to use its fat for the sustained energy it needs. It is a safe, effective, natural supplement for balancing cholesterol and blood sugar that is clinically proven.

How do you drink Unicity Balance?
Drink immediately. The fiber matrix in the Balance thickens quickly and becomes a gel. You want that to happen in the stomach before your, to get maximum results.
How to Use Unicity Balance
Dissolve the contents of one packet or one scoop into 8 to 10 fl. oz. of liquid (water or juice), stir or shake vigorously and drink immediately. Take it 10 to 15 minutes before your meal.

What are the Unicity Balance Ingredients?
Unicity Balance is a fiber-based, vitamin-rich nutritional supplement. Unicity Balance™ contains a blend of soluble and insoluble fibers, phytosterols, policosanol, an extract of Chrysanthemum morifolium, vitamins, and minerals.

When is the best time to drink Unicity Balance?
For best results, drink Unicity Balance at least twice every day 5 to 15 minutes before your two main meals. To learn more about how Balance works, see the video below.

Can I drink Unicity Balance with medication?
Unicity Balance is considered a food, so it is acceptable to take your medication with Unicity Balance if it is okay to be taken with food. Your physician can refer to the Balance listing in their Prescribers Desk Reference (PDR) to verify safety warnings. Unicity Balance has been used for more than two decades and no adverse side effects have been reported or measured when used properly according to instructions.
Is Unicity Balance safe?
Unicity Balance is well tolerated with all-natural ingredients.

Does Unicity Balance cause gastrointestinal issues?
There may be mild gastrointestinal discomfort, such as increased flatulence or loose stools, during the first month of initial use due to the increased uptake of dietary fiber. This GI disturbance usually disappears within the first thirty days. If the GI discomfort persists, reduce the amount per serving.

I have tried Unicity Balance and it hurts my stomach when I take it (or causes more frequent bathroom trips).
As with the previous question, introducing fiber into your diet can increase gas or bloating for some people. This is a normal reaction as your body begins to acclimate to the increased daily fiber intake. The effects should diminish after 2–3 weeks. If you're very uncomfortable, consider halving the portion of Balance you take before each meal for 3–7 days.
Will I experience any side effects when I start taking Unicity Balance?
The addition of fiber supplementation to a diet currently low in fiber may cause temporary discomfort in your bowels (even diarrhea or constipation). If diarrhea occurs, cut back on the amount of Unicity Balance to one-half dose (or less) and increase it into your diet using one-quarter packet increments per serving. Because fiber draws water to it (hydrophilic), constipation may occur.
If this occurs, increase the amount of water mixed with Unicity Balance (up to 14-16 ounces). Then, readjust to lesser amounts gradually into your Unicity Balance mixture until you reach 10-12 ounces. Fiber needs water to work and a normal diet should contain eight or more glasses of water per day, so you also may need to increase the overall level of water you consume to reach normal levels.
What are the benefits of Unicity Balance?

Unicity Balance facilitates weight loss through five distinct mechanisms. First, the soluble fiber matrix promotes an increase in satiety. Second, Balance improves cholesterol levels, the reduction in LDL content removes a potent inhibitor of lipolysis. Third, it improves blood glucose levels. Appropriate serum glucose levels help maintain many metabolic processes in the body. Reducing insulin levels permits fatty acid oxidation to occur. Fourth, it restores appropriate leptin signaling. Lastly, it reduces triglyceride levels allowing for leptin to cross the blood-brain barrier and affect its mechanism of action.

How does Unicity Balance help me lose weight?

Unicity Balance reduces your appetite, absorbs and removes fat, promotes fat-burning ability, and decreases leptin resistance. Unicity Balance is the ONLY all-natural, medically endorsed, and clinically proven solution to help your body with fat loss - without dieting!

What does Unicity Balance do?

See question above, for a detail list of the five distinct mechanism Balance offers for metabolic health.

Do doctors recommend Unicity Balance?
Recommended by thousands of medical doctors and health practitioners. Unicity Balance is medically proven, clinically studied, peer-reviewed, published in the medical journals, and listed in the prestigious Prescribers Desk Reference (PDR).
Can't I just consume more dietary fiber instead of taking Balance?
Food processing tends to eliminate a lot of beneficial fiber from food, and, as a result, many people don't get enough fiber in their diets. With our unique blend of soluble and insoluble fiber, you will receive benefits that support healthy cholesterol levels, a healthy digestive system, and a curbed appetite. In addition, you will receive vitamins and minerals that are not present in normal dietary fiber.
What is the difference between Unicity Balance & Metamucil or Benefiber?
There is no comparison between Balance and these OTC fiber-based supplements. Metamucil only offers 5g of Psyllium Fiber and Benefiber has 3g from Wheat dextrin, as their only source of fiber. Unicity Balance has a wide spectrum of fiber matrix, polysaccharides, phytosterols, policosanol, calcium carbonate, chromium as well as vitamins and minerals.
For a more complete comparison, visit Metamucil Fiber vs Unicity Balance Fiber Matrix and Benefiber vs. Unicity Balance Fiber Matrix.
Is Unicity Balance only for diabetics?
Most people take Balance as part of a healthy lifestyle choice and continue taking it after their cholesterol, fat loss or blood sugar goals have been reached. This is not designed to be part of a restrictive diet. It's a sustainable lifestyle. Balance is designed to fill those voids in our dietary intake such as fiber. I personally have been using this since 2008. That's almost a decade after I released 100-lbs and changed my metabolic health.
Does Unicity Balance help with Type 1 Diabetes or only Type 2 Diabetes?
Unicity Balance helps with both Type 1 and Type 2 Diabetes. The advanced fiber matrix helps to moderate the amount of glucose and insulin in the body. Many people with Type 1 Diabetes experience a reduction in their need for insulin and have more energy as a result of drinking Unicity Balance consistently.
Is Unicity Balance for Heart health?
Unicity Balance lowers your triglycerides, improves cholesterol levels, and normalizes blood pressure.

Should I continue to drink Unicity Balance when I have reached my healthy

blood sugar or cholesterol goals?
Unicity Balance has been clinically tested in numerous medically supervised studies to help patients achieve their health goals, often within 60 to 90 days. However, taking Unicity Balance for prevention purposes is highly recommended. Most people make taking Unicity Balance a lifestyle choice as part of The Feel Great System and continue taking it even after their cholesterol, fat loss or blood sugar goals have been reached.
Higher amounts of fiber are an important part of a lifelong healthy diet and will achieve ongoing good health, higher energy, better digestive function, and maintenance of recommended cholesterol levels, sugar balance and weight. In short, Balance should be a way of life and is a product everyone should benefit from.
Is it safe for pregnant women or nursing mothers to drink Unicity Balance?
Yes! Unicity Balance is safe for pregnant women and nursing moms. It is especially helpful during postpartum, to not only lose the extra weight gained, but to assist with higher levels of energy, balancing hormones and to assist in the healing process of internal organs.
Can children or older people drink Unicity Balance?
Unicity Balance is derived from natural ingredients, so it is safe and beneficial for all genders, ages and types of people. It is highly recommended for adults and teenagers who want to lose excess fat or prevent gaining additional fat. More children are experiencing problems with weight and fat issues than ever before. Consequently, associated health challenges like Type 2 Diabetes are also impacting our youth. Children ages six to twelve should consume only half servings of Unicity Balance. For children under age six, we recommend you consult your pediatrician about adding Unicity Balance to their diet.
I keep forgetting to take the Balance before I eat. Is it ok to take it during my meal or right after I eat when I remember?
If you forget and are about to eat, take it anyway. Balance, for best results take it 10 to 15 mins before you eat. Better to take it than not take it. If you watch this video below it explains how the Balance works to lessen the glucose spike and insulin response. Basically, if you don't wait then the 10-15 mins Balance did not have enough time to do what it needs to do in your stomach (pre-meal).
It's been weeks now taking Balance, and I am not getting any weight loss results. Will this really work for me?
Results will vary. However, we guarantee that when you take the Balance and Unimate together as part of The Feel Great System that you will Feel Great within your first 30 days, so long as you are taking the products daily and consistently.
When it comes to weight loss as the goal, there are so many factors involved in seeing short term results and maintaining long term success. These can include overall health, hormone imbalance, sleep, stress (cortisol), consistency in the intermittent fasting, physical activity, and so much more. Just be consistent, be patient and focus on the little wins initially. If you would like to explore this in more detail, contact me and I would be pleased to work with you.
Can I drink Balance with alcoholic beverages?
We don't recommend dissolving the packet contents in alcoholic beverages; however, the product is safe to drink before a meal where alcoholic beverages are consumed.
Why is Balance in the form of a drink mix and not in tablet form?
With tablets or capsules you would need to take 7-8 per serving to get the amount of needed ingredients in one serving of Balance. More importantly, Balance works because it forms a large gel matrix when it dissolves in water together with the calcium salt in it. A tablet would be too condensed and would not form the necessary gel matrix.
Do more packets of Balance per day cause a faster and more substantial change in blood glucose, LDL and HDL levels?
Yes, we know that more is better. More fiber better stabilizes your blood glucose and cholesterol. Our published results reflect the prescribed directions on our packaging. Following those same directions should deliver great results. Using more would provide better results.
Is Balance as effective if mixed with carbonated drinks like diet sodas?
As long as one does not mix Balance with hot water, it is ok. Carbonated water or soda pop does not interfere with the mechanisms. Should you heat the product, the phytonutrients present in the product may be destroyed which will limit the effectiveness of the product.
What is the glycemic index of Balance?
This has never been measured, but since the glycemic index (GI) determines the effect a product has on the glucose levels in the blood, we can safely assume that the GI for Balance is very low, if not zero. Fibers are the only carbohydrates in the product, but they are not digested or absorbed into the blood stream.
What can I have between meals when following the 4-4-12 principle?
You can enjoy water, unsweetened tea, coffee, and low-carb beverages like Unimate, Unimate Fuel or Unicity Matcha. Sugar-free gum and mints are also acceptable.
Do I need to change my diet while taking Balance?
Balance is specifically formulated to work with any dietary intake, however like most high-quality nutritional products, you will achieve even better results following healthy dietary principles. We recommend the Unicity Nutrition Principles: Prioritize Protein, Fuel with Fat, Control Carbohydrates, and follow the 4-4-12 guideline.
What else will Balance do for my health?
Here's a more detailed list of 22 benefits using Balance every day. Which of these benefits would you be interested in adding to your life?
1. Gives you energy
2. Valuable vitamins and minerals
3. Adds valuable fiber to your diet
4. Improves your skin
5. Improves your intestinal health
6. Improves your immune system
7. Improves your hormone balance
8. Eliminates mid-day energy sags
9. Improves your sleep
10. Helps protect you from cancer… (fiber drink)
11. Reduces risk of heart disease
12. Reduces risk of diabetes
13. Lowers your LDL (bad) cholesterol
14. Raises your HDL (good) cholesterol
15. Lowers your Triglycerides
16. Lowers your Homocysteine Levels
17. Lowers daily blood glucose levels
18. Reduces appetite
19. Eliminates cravings
20. Eliminates cellulite
21. Stop storage fat
22. Releases deposits of fat
Order Unicity Balance at the lowest discounted Wholesale Pricing and Satisfaction Guaranteed!
Unicity Balance.
Fiber Matrix Drink
1 Box | 60 Packets
Feel Better Than You Have In Years!
The Feel Great System
More Energy! Healthy Blood Sugar Levels! Weight Loss!
Even If Everything Else You Tried Before Has Failed!
Order today! 100% Satisfaction Guarantee!
Doug Collins, Independent Distributor
Text: 1-902-201-0245
Int'l Call/Text
Click the Message/Chat Button
Buy Now