FAQ: Unimate Yerba Mate Drink Frequently Asked Questions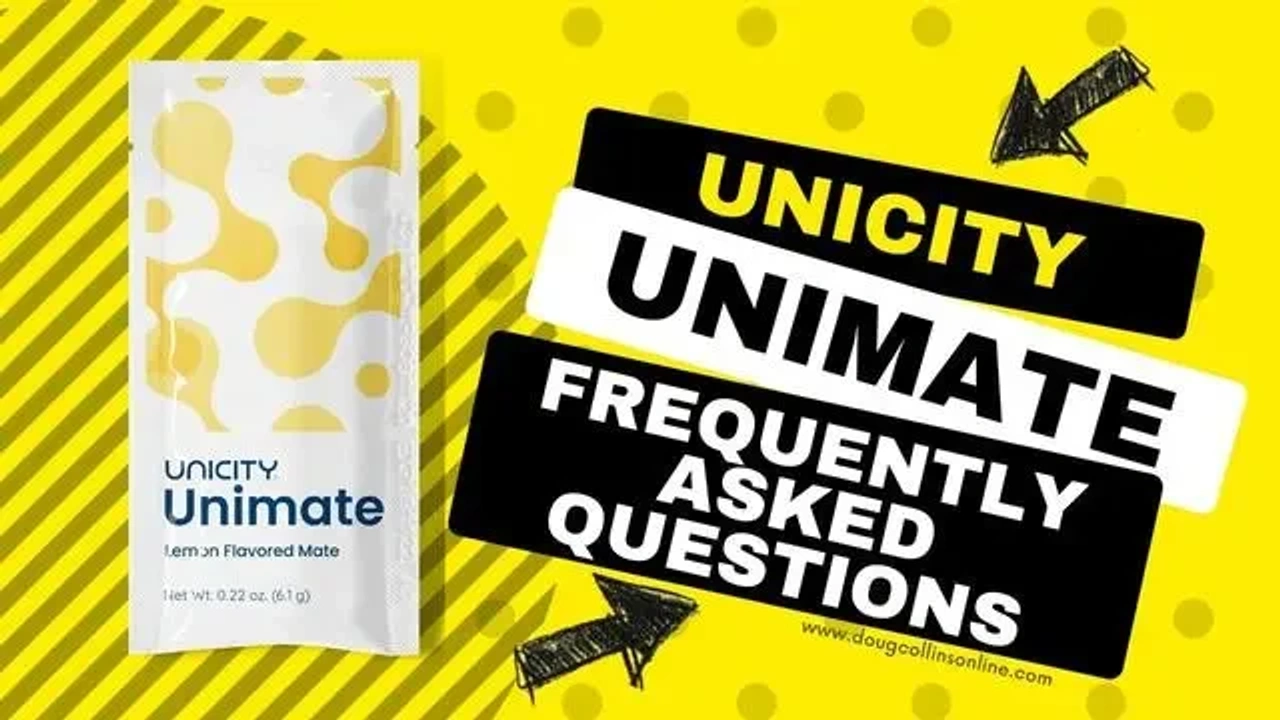 Unimate is a high-quality proprietary Yerba Mate extract with natural ingredients to boost your mood and your endurance. Our Yerba Mate is grown, harvested, and traditionally fire-dried and roasted in South America. It then undergoes a specialized purification and extraction process, providing 10 times the

number

of bioactive compounds as normal Yerba Mate.
To help you enjoy the very best experience with the Unimate yerba mare, I have compiled the most extensive FAQ list you will find anywhere. You can order Unicity Unimate at the Buy Now page. Be sure to also visit these other FAQ Pages:
Disclaimer: The information on this FAQ page is not intended to replace a one-on-one relationship with a qualified health care professional and is not intended as medical advice. It is intended as a sharing of knowledge and information from decades of research and experience of Doug Collins and his community. Visiting this FAQ page constitutes your acceptance to the Term of Use and Copyright of this website. You may not copy, reproduce, republish or duplicate any content on this FAQ page or anywhere else on this website, including the layout, design elements, images, blog articles and verbiage, without prior written approval from Doug Collins.
---
Frequently Asked Questions
What is Unimate Yerba Mate Drink?
Yerba mate contains large amounts of chlorogenic acid, theobromine, and triterpene. These natural ingredients benefit your energy, mood, and health, helping you perform your best. Plus, with Unimate, you won't experience the energy crashes, sugar spikes, addiction, irritability, or headaches that come with other energy supplements.
Unimate supports your cognitive function and endurance, helping make the good days the rule, not the exception. Naturally rich in antioxidants and nutrients, yerba mate has been traditionally used to promote mental clarity, endurance, appetite control, and improved mood.
What are the ingredients of the Unimate?
Unimate is a high-quality proprietary Yerba Mate extract with natural ingredients to boost your mood and your endurance. Our Yerba Mate is grown, harvested, and traditionally fire-dried and roasted in South America. It then undergoes a specialized purification and extraction process, providing 10 times the number of bioactive compounds as normal Yerba Mate.
Unimate™ is a rich source of vitamins, minerals, and secondary metabolites such as chlorogenic acids and triterpenoid saponins. As a member of Unicity International's Genomeceutical line of products, chlorogenic acids and triterpenoid saponins found in Unimate™ have been documented in the scientific literature to support healthy gene expression in the body.
Unimate is a sugar-free yerba mate drink that will help you manage your appetite and reach your goals with enhanced mental clarity and an improved mood.
Unimate is high in chlorogenic acids (those feel-good elements also found in coffee) to give your brain the willpower to achieve your goals. Our yerba mate contains up to 10 times the amount of chlorogenic acids found in a typical cup of coffee and about as much naturally occurring caffeine.
What makes Unimate Different than other Yerba Mate Drinks?
The Unicity Unimate is unlike any other yerba mate on the market. The yerba mate in Unimate is grown in South America and undergoes a 5-step patented process to make it 375 times more effective than other commercially available Yerba Mate. The 5-step process is: Hand Picked, Fire Roasted, Extracted, Concentrated, Purified.
In the last 5 years, Unimate™ has been through a series of clinical studies and the impact of this product is remarkable. For more information, visit Unimate Drink: A Unique 5-Step Patented Yerba Mate
How much caffeine does each serving of Unimate contain?
Since natural ingredients can have some variation the amount of caffeine is not standardized. The product is tested for an upper limit and will have about as much as a cup of premium coffee.
How does Unimate improve the production of Ketones and Ketosis?

Unimate helps your body increase ketone levels for improved fueling. Ketones are a "clean-burning" fuel—they produce less oxidative stress than glucose—that support your body's mental and metabolic functions.
Why is Unimate good for Intermittent Fasting?
Unimate helps your body increase ketone levels for improved fueling. Ketones are a "clean-burning" fuel—they produce less oxidative stress than glucose—that support your body's mental and metabolic functions. To learn more, visit Unimate Drink Great for Intermittent Fasting
Is this product suitable for use on a ketogenic or similar diet?
Unimate is ideal for keto or low carb diets! It is mood-lifting and stimulates the metabolism, which helps the body to burn fat and reduces cravings for unhealthy foods.
I read that Unimate helps reduce Oxidative Stress. What is that?
Unimate works on a cellular level to bring down levels of oxidative stress. Oxidative stress reduces your body's ability to combat the negative effects of free radicals. Unimate has been observed lessening this stress in both skeletal-muscle cells and fat cells.
Is it true that Unimate will boost my mood?
Clinical studies show that Unimate™ has the ability to promote a healthy mood. Psychological well-being in a group of subjects, assessed using the Oxford Happiness Questionnaire, was increased by 20% after taking Unimate™. The mode of action of this result is likely due to the ability of chlorogenic acids to support healthy mood and cognition—as previously reported elsewhere in the scientific literature.
Do I have to also take the Unimate, as part of the Feel Great System, for control of my cholesterol and diabetes?
You could just take the Balance to achieve the desired result of lowering Cholesterol and balancing your blood sugars. However, we have found in the clinical studies that when we combine both of the products as a system they work together for much better results. In addition, the Yerba Mate in the Unimate provides so many other amazing benefits that the Balance alone cannot offer.
One clinical study demonstrated the ability of Unimate™ to maintain healthy blood-lipid and blood glucose levels in the body. A 12% reduction of total cholesterol, 5% reduction of LDL cholesterol, and 11% reduction of triglycerides was observed in a group of subjects who took Unimate™ once daily for 30 days. Additionally, a 5% reduction in fasting blood-glucose and a 3% reduction in HbA1c levels was also observed in this same group.
Other clinical studies have validated the ability of Unimate™ to support healthy weight loss in the body due to the ability of Yerba Mate triterpenoid saponins to support healthy gene expression of anti-obesity related genes.
I don't like the taste of Unimate. What else I can I do?
While Unicity works really hard to bring us science-based products that are pleasing to the pallet, we know it does not always work for everyone.
The Feel Great Pack gives you 3 flavors of Unimate Lemon, Lemon/Ginger (not in Canada) and Citrus Mint. You could try adding more water (or less powder) to dilute your drink. We have found that adding some fresh lime really blends nicely from a taste standpoint. Try mixing it up and trying different ways. If you find one, let me know so I can share it with others.
Unimate gives me the jitters. Any suggestions?
Unimate is generally well tolerated. Unimate contains moderate amounts of caffeine; caffeine-sensitive individuals should exercise caution when using this product. Most people report higher energy levels as some of the primary benefits of Unimate. Please note that Unimate has about as much caffeine as a cup of premium coffee, so please be careful if you are sensitive to caffeine. If you experience the jitters, try having a high protein low carb food right after your Unimate, such as a few hard boiled eggs. This will put some food in your stomach without impacting your blood sugars level.
How do you recommend using the Unimate, when used with The Feel Great System?
For best use mix one packet with 17-24 ounces of water. Use once daily or as desired. Drink with hot or cold water. For best results take first thing in the morning and then wait for the hunger. Then have a Balance right before your first meal. For more information and instructions, visit The Feel Great System Instructions & Benefits
I read online that Yerba Mate can cause cancer. Is this true?
There are studies that indicate people who drink large amounts of yerba mate over long periods may be at increased risk of some types of cancer, such as cancer of the mouth, throat and lungs. While yerba mate does have many health benefits including that it can relieve fatigue, aid in weight loss, ease depression, and help treat headaches and various other conditions. There is that last concern that some might believe there is a "health risk". I covered this topic specifically in another blog article, visit Can Yerba Mate Cause Cancer?
Is Unimate safe to take as a professional sports supplement?
Unimate is approved under "Informed-Choice" is a quality assurance program for sports nutrition products, suppliers to the sports nutrition industry, and supplement manufacturing facilities. We have many high-level Olympic athletes who use Unimate including OLYMPIC GOLD MEDALIST Short Track Speed Skater, Hyojun Lim. He says that "I drink a cup on Unimate when I wake up in the morning. Unimate helps to boost my energy. I enjoy it especially because it has been tested and certified for banner substances."
Can I take Unimate with Unicity Matcha?
Yes, you can use both products at the same time or separately. Both do contain caffeine so sensitive individuals may wish not to drink together or before sleep. Many people have enjoyed them mixed together with great health benefits. In this video below you will meet Tammy's daughter who has had a great experience with the Unimate and Matcha mix.
How is Unimate different from Unicity Matcha?
Unicity Matcha mainly provides energy for the body, Unimate more of a mental energy. Matcha increases the amount of energy (ATP) that is produced resulting in more cellular energy. Unimate promotes improved mood, sense of well-being and a feeling like you can accomplish anything.
Why is this product not for use by pregnant or nursing women? Can kids use Unimate?
Unicity does not test products on children, or pregnant or nursing women, and therefore cannot recommend use for these demographics.
What are chlorogenic acids?
Chlorogenic acids are a family of polyphenol compounds found in plants like yerba mate, green coffee beans, and tea. They have strong antioxidant benefits. Unimate contains up to 375 times more chlorogenic acids than standard yerba mate.
What is Theobromine?
Theobromine is a molecule that is similar in structure to caffeine but is milder and has a lasting stimulating and mood-lifting effect. Theobromine is the reason why chocolate makes you happy! Unimate has 3 times the amount of Theobromine as compared to the highest quality dark chocolate.
What
is

Mate saponins?

The saponins found in mate are valuable secondary plant substances.
---
Order Unicity Unimate at the lowest discounted Wholesale Pricing and Satisfaction Guaranteed!
Unicity Unimate
Yerba Mate Drink
1 Box | 30 Packets
Feel Better Than You Have In Years!
The Feel Great System
More Energy! Healthy Blood Sugar Levels! Weight Loss!
Even If Everything Else You Tried Before Has Failed!
Order today! 100% Satisfaction Guarantee!
Doug Collins, Independent Distributor
Text: 1-902-201-0245
Int'l Call/Text
Click the Message/Chat Button
Buy Now