Are the Feel Great System Products Safe? | Balance fiber matrix & Unimate yerba mate
Sep 02, 2022
Have you found yourself asking, 'Are Feel Great products safe to use?' Look no further.
In this article, we get into the details of FDA approvals and Health Canada's rigorous Natural Health Products regulations. Our goal is to provide you with comprehensive information to make a well-informed choice about your health and wellness.
Unicity International is a leader in health and wellness and proven nutritional solutions and education for metabolic health. This is a company with decades of stability and a solid reputation for professionalism and competence.
For over 30 years, Unicity has been dedicated to developing high-quality products that contain the vital nutrients your body needs. With the proper process, cutting-edge technology, and a mission to Make Life Better, Unicity Science is paving the way for a better tomorrow.
Each Unicity product begins with an innovative idea. That idea becomes a unique product at a Unicity-owned manufacturing site. The product then undergoes rigorous quality testing. The result is a highly innovative, thoughtfully designed collection of products that respect your health and lifestyle. We believe that you shouldn't outsource what matters most.
The Feel Great System: Safe Proven Science-Based Products
The Feel Great System products include two of Unicity's most effective formulations, including the Balance fiber matrix and Unimate yerba mate. Unicity, the company behind the Feel Great System, not only believes in creating products that are innovative but also based on science.
Consumers should feel confident that the supplements they purchase are safe and contain the ingredients provided in the labeling for the product. Unfortunately, there are unscrupulous manufacturers who market dietary supplements containing hidden drugs and/or chemicals. 
The Feel Great System products are two science-based food supplement called Unicity Unimate yerba mate drink and Balance fiber matrix , this is a unique proprietary fiber matrix blend.
What about FDA Approvals - Unicity Feel Great Products
In the United States, the Food and Drug Administration (FDA) has guidelines that require manufacturers to disclose side effects of prescription medicine. This is meant to inform the prescribing physicians and the patients taking the medicine about the risks and benefits of these substances.
But, these disclosure requirements are not the same for vitamins and supplements. For these, the FDA requires that they are generally safe and that the labels are not "misleading." But proof of benefit and disclosure of risk is not required from the manufacturer.
In the U.S., dietary supplements are regulated as a category of foods, but in Canada for example, dietary supplements—or what Health Canada calls "Natural Health Products" (NHPs)—are treated as non-prescription drugs.
Health Canada Approvals: Natural Health Products (NHP's)
You may not be living in Canada, but it is important to note that Canada has the strictest regulations around the globe when it comes to granting product approvals under their Natural Health Products regulations.
The Feel Great products are Health Canada Natural Products (NHP) approved. Having this NHP approval brings recognition that Feel Great as having met the highest standards in the world!
To be legally sold in Canada, all NHPs must have a product license, and the Canadian sites that manufacture, package, label and import these products must have site licenses.
To get product and site licenses, specific labelling and packaging requirements must be met, good manufacturing practices must be followed, and proper safety and efficacy evidence must be provided including clinical trials.
A clinical trial is when Natural Health Products are tested using human subjects. Clinical trials are intended:
to discover or verify the product's effects
to identify any adverse events that are related to its use
to study its absorption, distribution, metabolism and excretion
to test its safety or efficacy
A Health Canada NPN is assigned after Health Canada finishes assessing the product to ensure safety, efficacy, and quality including: medicinal ingredients, source, dose, potency, non-medicinal ingredients and recommended use(s).
This 8-digit identifier number must appear on the principal panel of the NHP label. It indicates that Health Canada has reviewed and approved the health product for sale in the Canadian market.
The safety and efficacy of NHPs and their health claims must be supported by proper evidence so that consumers and Health Canada know the products are indeed safe and effective. Evidence may include clinical trial data or references to published studies, journals, pharmacopoeias and traditional resources. The type and amount of supporting evidence required depends on the proposed health claim of the product and its overall risks.
Feel Great Products: NSF Certified for Sport®
Unicity does not stop at only receiving government approvals in the countries they operate around the world. They also go above and beyond in validating and meeting the highest certification standards worldwide. As a consumer, you can be assured that these products are safe as both of the Feel Great System products are NSF Certified for Sport®. Here is the Unimate yerba mate NSF listing and the Balance fiber NSF listing.
Feel Great System What does that mean?
The program certifies that what is on the label is in the bottle and that the product does not contain unsafe levels of contaminants, prohibited substances or masking agents, as tested by an independent, third-party body that verifies the purity and safety of each batch of the dietary supplements it certifies.
NSF's global Certified for Sport® program helps athletes, dieticians, coaches and consumers make safer decisions when choosing sports supplements. The Certified for Sport® certification is the only independent third-party certification program recognized by the United States Anti-Doping Agency (USADA), Major League Baseball, the National Hockey League and the Canadian Football League.
Certified for Sport® is also recommended by the NFL, NBA, PGA, LPGA, CCES, CPSDA, iNADO, Ironman, NASCAR, Taylor Hooton Foundation and many other organizations seeking to mitigate the risks of contaminated dietary supplements.
Manufacturers that pursue certification undergo product testing for 280 banned substances, label content confirmation, a formulation and label review, production facility and supplier inspections, and ongoing monitoring in line with prohibited substance lists of the NFL and MLB as well as NSF Annex C.
How does a product get NSF Certified for Sport®?
The NSF certification process is specific to the product, process or service being certified and the type of certification, but generally follows seven steps:
Application and information submission
Product evaluation
Product testing in lab
Manufacturing facility inspection, production confirmation and product sampling
Test results review and acceptance
Contract signed and products listed
Annual plant inspection and retesting
How important is NSF certification?
NSF certification is your key to making sure that the products you use meet strict standards for public health protection. Choosing a product certified by NSF lets you know the company complies with strict standards and procedures imposed by NSF.
But another question you might want to ask is whether the supplement contains what the label says it contains — and at the dosage indicated. As mentioned earlier in this article, finding the answer to this question is not always easy. Because the US Food and Drug Administration doesn't regulate dietary supplements as drugs, it provides no guarantee of efficacy or safety — or that the product contents are true to the labeling.
With the NSF certification you are assured what is on the label is inside the packaging. This is why many professional athletes around the globe use the Feel Great products as part of their health program.
Lim Hyo Jun is a representative of Korea National Team for short track speed skating who's a rising athlete for the upcoming Pyeongchang 2018 Winter Olympics. Unicity is proud to have products that have helped to significantly boost his performance and energy levels.
Toronto Blue Jays star slugger Vladimir Guerrero Jr. (aka VLaddy) took a different direction in his 2020-21 offseason, instead of diving into weeks of relaxing, junk food and beverages during his time off, he put his nose to the grindstone and got to work on his health. The Feel Great System helped this Major League Baseball slugger drop 42 lbs.
The Prescribers' Desk Reference (PDR)
For more than 70 years, the PDR (formally called Physicians' Desk Reference) has been the authoritative source on prescription drugs and science-based supplements. This resource is used in virtually every physician's office, pharmacy, clinic, and library, no medical reference is more current, more recognized, or more respected.
The PDR contains full FDA-approved drug label information and only science-based supplements, including warnings and precautions, and drug interactions. Every product listed in the PDR includes information on dosages, side effects, and safety information, such as contraindications, pregnancy ratings, and interactions with other drugs, food, or alcohol. Data on clinical trials is also included.
Unicity International, the founder and manufacture of the Feel Great System products, has more products listed in the PDR than any other supplement company in the word. Two of Unicity's flagship products they manufacture are Unimate yerba mate and Balance fiber matrix. These are the key products that are part of the Feel Great System metabolic health program.
These two products are listed in the PDR as shown in these links below:
Why does it matter that the Feel Great System products are listed in the Prescribers' Desk Reference (PDR)?
For over 30 years, Unicity has been dedicated to developing high-quality products that contain the vital nutrients our body need all with the best in class manufacturing process, cutting-edge technology, and a mission to Make Life Better.
Having the Feel Great products listed in the PDR assures you, as the consumer, that you can get plain-English explanations for the safe and effective use of these products that is consistent with information referenced by healthcare professionals using FDA approved Product Labels and FDA approved Patient Information Leaflets.
Related blog articles:
Feel Better Than You Have In Years!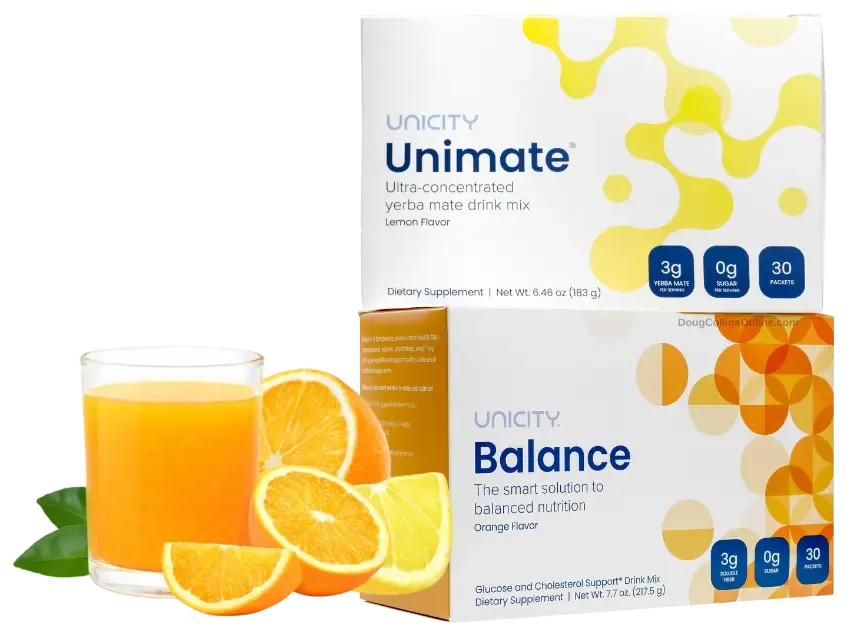 The Feel Great System
More Energy! Healthy Blood Sugar Levels! Weight Loss!
Even If Everything Else You Tried Before Has Failed!
Order today! 100% Satisfaction Guarantee!
Click the Message/Chat Button
Buy Now