Unicity Balance Fiber Matrix Ingredients and Benefits: The Comprehensive Guide
Mar 23, 2022
The Balance Fiber Matrix is a pre-meal drink is formulated to deliver essential soluble and insoluble fibers, minimizing carbohydrate effects on the body.
Unicity Balance a proprietary mix of potent ingredients, this distinctive formula is designed to minimize the carbohydrate effects on the body, curbs your appetite, takes in and eliminates fat, enhances fat-burning capacity, and combats leptin resistance.
A Detailed Look at Unicity Balance Ingredients
Unicity Balance is composed of a variety of dietary fibers like guar gum and locust bean gum. These components are beneficial for digestion and contribute to maintaining a healthy gut.
Additionally, Unicity Balance features broad spectrum of vitamins and minerals, ranging from Vitamin A through Vitamin B12, and incorporates essential minerals such as calcium and zinc for a well-rounded nutrient provision. The combination of these ingredients in Unicity Balance is designed to support its effectiveness in contributing to overall health maintenance.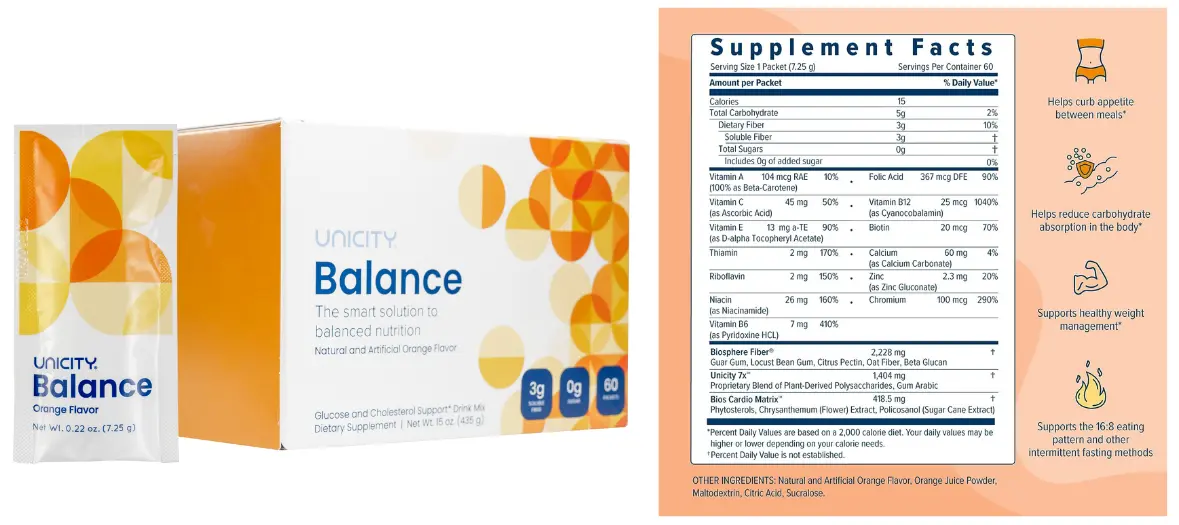 | | |
| --- | --- |
| Active Ingredients | Guar gum, gum arabic, locust bean gum, citrus pectin, oat fiber, beta glucan, plant-derived polysaccharides, phytosterols, policosanol, vitamin and mineral blend (vitamin A, C, E, B1/thiamin, B2/riboflavin, B3/niacin, B6, B9/folic acid, B12, biotin, calcium, zinc, and chromium) |
| Additional Ingredients | Natural and artificial flavors, orange juice powder, maltodextrin, citric acid, and sucralose |
| Fiber Sources | Guar gum, gum arabic, locust bean gum, citrus pectin, oat fiber, beta glucan |
| Serving Size | 1 packet |
| Recommended Use | Consume twice daily 10–15 minutes before two largest meals for optimal benefits |
| Total Fiber per Serving | 4 g (4g soluble fiber), 6 different plant sources |
| Product Characteristics | High viscosity coats your stomach for maximum benefits and less carbohydrate impact on the body |
| Certifications | Gluten-free, Kosher, Halal |
| Side Effects | Changes in bowel habits, minor bloating, or other digestive discomfort as the body adjusts to increased fiber intake |
| Patents | US patents in 1989 and 2005 for the unique blend of ingredients and methods for lowering cholesterol |
| Additional Benefits | Reduces bad cholesterol absorption, assists in the breakdown of LDL cholesterol, promotes heart health with improved blood pressure over time, supports metabolic health |
Here's a more detailed list of the naturally sourced ingredients and benefits of Unicity Balance:
Biosphere Fiber: Oat Fiber, Guar Gum, Gum Arabic, Locust Bean, Citrus Pectin, Maltodextrin, and Beta-Glucans. This unique blend forms a gel in the digestive system that captures cholesterol, bile acids, and fat. This action not only slows the rate at which glucose is absorbed, supporting healthy cholesterol levels and blood glucose balance, but also promotes prolonged satiety, especially beneficial when trying to manage weight.
Unicity 7x: Proprietary blend of plant-derived polysaccharides. Unicity 7x is a specialized blend of viscous fibers. When these fibers come in contact with water, they transform into a thick gel as they navigate through the digestive tract. This gelatinous substance delays stomach emptying, providing prolonged satisfaction after a meal. It's worth noting that this unique blend of plant-derived polysaccharides is globally patented.
Bios Cardio Matrix: Phytosterols, Policosanol, and extract of Chrysanthemum Morifolium. This blend is packed with plant extracts and phytosterols that support the body's cholesterol absorption process. Its design ensures that the absorption of cholesterol during digestion is minimized, which can be beneficial for heart health. Key sources of this matrix include Phytosterols, Chrysanthemum (Flower) Extract, and Policosanol from Sugar Cane Extract.
Bios Vitamin Complex™: Calcium Carbonate, Vitamins A, C, E, B1, B2, B3, B6, B12, Biotin, Folate (with added zinc and chromium). This carefully curated blend aims to promote a healthy metabolism. By assisting with proper digestion, it optimizes the conversion of your food into fuel. Among the prominent ingredients are Vitamin C (Ascorbic Acid), Chromium, Vitamin A (Beta-Carotene), and Zinc (Zinc Gluconate).
Orange Juice Powder: The distinct light orange flavor in Unicity Balance comes from natural orange juice powder. It's sweetened just right, thanks to the plant-derived sweetener, stevia. This ensures you enjoy both the taste and health benefits without any added sugars.
Benefits of Unicity Balance Fiber Matrix
Regulates Blood Sugar: Unicity Balance is formulated to help regulate blood sugar levels safely and naturally. By balancing glucose in the blood, it supports a steady energy release throughout the day, which is especially beneficial for those monitoring their blood sugar.
Improves Cholesterol: The product is effective in optimizing cholesterol levels. It positively influences both HDL (good cholesterol) and LDL (bad cholesterol), thus reducing the potential risks associated with heart attacks and strokes.
Heart Health: Unicity Balance contributes to heart wellness by lowering triglyceride levels. Triglycerides are a type of fat found in the blood, and high levels can increase the risk of heart disease and stroke.
Insulin and Leptin Resistance: The formulation aids in reducing insulin resistance, a precursor to diabetes, and decreases leptin resistance, which can affect body weight and metabolism.
Glycemic Control: It also plays a role in reducing the glycemic index of foods consumed, making it a valuable addition to meal planning, especially for individuals with glucose management needs.
Fat Absorption and Burning: The product has properties that absorb excess fats and promote fat-burning processes, thereby assisting in weight management and the reduction of unwanted fat storage.
Appetite Control: By curbing cravings and reducing the tendency to overeat, Unicity Balance is an ally in maintaining a balanced diet and preventing weight gain.
Digestive Health: Regular consumption supports digestive health and ensures regular bowel movements, contributing to the overall function of the gastrointestinal system.
Nutritional Intake: It provides 100% of the recommended daily intake of many essential vitamins and minerals, ensuring that no nutritional gaps are left unfilled.
Energy and Stress: Unicity Balance boosts energy levels, which is crucial for daily activities and productivity. It also helps mitigate the physical effects of stress, promoting a sense of well-being.
Cellular Protection: The product includes ingredients that help protect cells against oxidative stress and damage, thereby supporting long-term cellular health.
How Unicity Balance Fiber Matrix Works
Unicity Balance is only available in the form of a single serve drink mix packet. It is not available in tablet form. This is important, because the Balance fiber matrix forms a gel matrix when it dissolves in water together with the calcium salt in it. A tablet format would be too condensed and would not form the necessary gel matrix that makes Balance so effective.
At the heart of Unicity Balance is a patented mix of fibers and phytosterols, complemented by essential vitamins and minerals. This blend is engineered to moderate glucose absorption, curb hunger, and support healthy cholesterol, contributing to your metabolic health.
Potential Side Effects of Unicity Balance Fiber Matrix
Unicity Balance is designed for easy daily integration with minimal side effects. Some individuals may experience mild digestive changes, such as bloating or altered bowel habits, during initial use. Adhering to recommended guidelines and proper hydration can mitigate these effects.
Unicity Balance Fiber Matrix vs. Metamucil Psyllium Fiber
Unicity Balance offers a wide array of health benefits, thanks to its varied fiber sources and added ingredients like phytosterols, unlike Metamucil, which primarily uses psyllium husk to promote bowel regularity.
Affordable Alternatives to Unicity Balance
While budget-friendly fiber supplements do exist, it's important to carefully evaluate their ingredients and health benefits. The fiber matrix in Unicity Balance is formulated to absorb a significantly higher amount of blood sugar and to support healthy cholesterol levels more efficiently than over-the-counter fiber products like Metamucil or Benefiber, which is are just a single source of fiber that act more like a laxative.
Manufacturer of Unimate Balance
Unicity Balance was first developed by scientists at the University of Santa Barbara in 1986 while conducting research using natural fibers to manage serum cholesterol. Now more than 35 years later, Unicity Balance continues to be the most recommended natural health supplement by doctors and healthcare professionals worldwide.
In the late 1980s it was originally produced by Rexall Drugs as Bios Life Diet and sold in their retail stores across America. Today Unicity Balance is made by Unicity International, a world leader in metabolic health. Unicity is most known as the founders of the Feel Great System, which consists of using Unicity Balance fiber matrix along with another unique yerba mate drink called Unimate.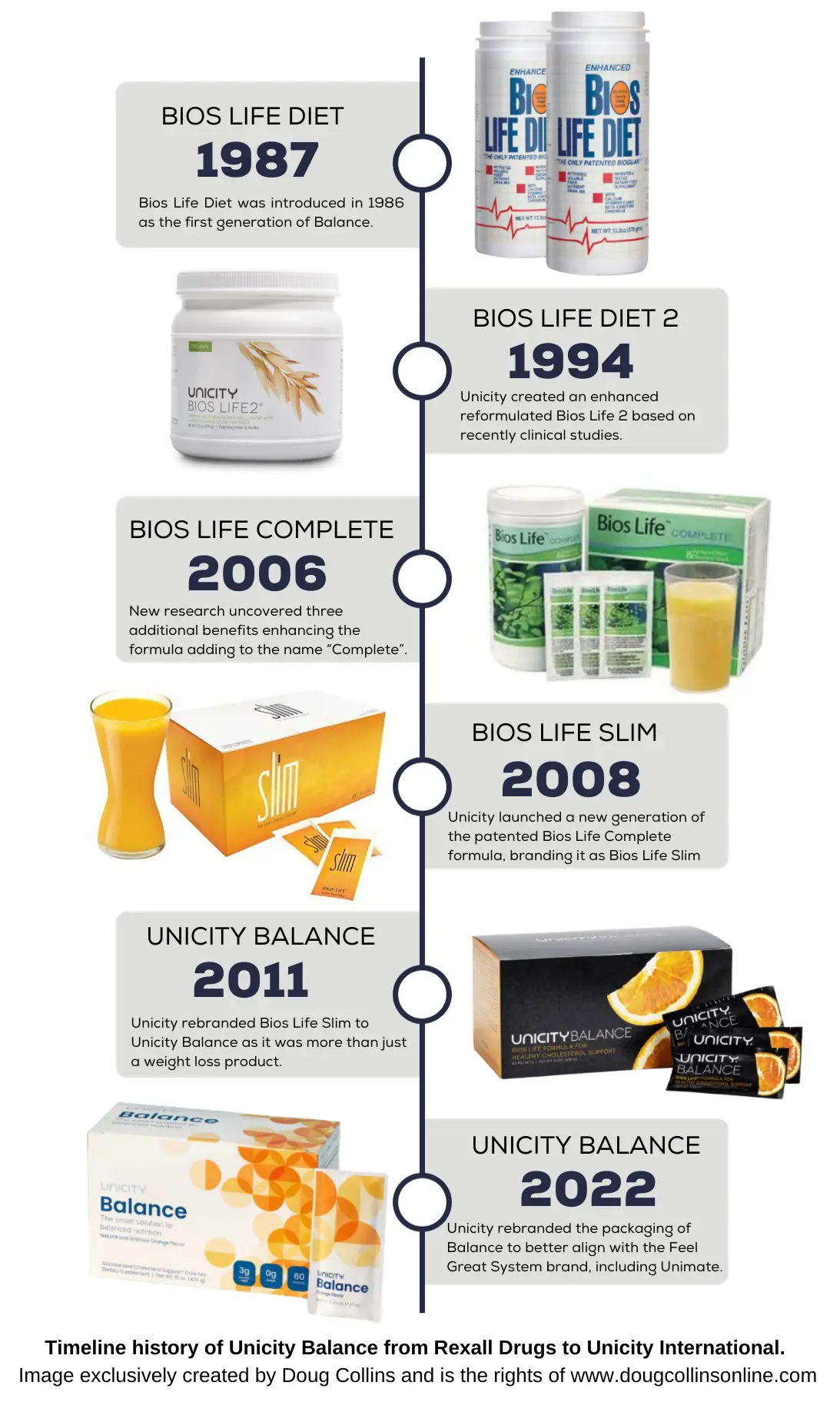 The Science Behind Unicity Balance
Over the past three decades, Balance has undergone extensive clinical research worldwide, including placebo-controlled and double-blind studies. A comprehensive clinical trial by the Cleveland Clinic validated Unicity Balance as an effective method for reducing cholesterol, blood sugar, and harmful lipids. It was also studied at the University of Sydney for its ability to control blood glucose.
Unicity Balance was first recognized and listed in the Prescriber's Desk Reference (PDR) in 2002, and to this day Unicity Balance stands out as a scientifically supported, natural fiber supplement.
Caffeine Content in Unicity Balance
Unicity Balance is free from caffeine, ensuring it's suitable for those avoiding stimulants. Its natural ingredients are selected to support metabolic health without the need for caffeine.
The Feel Great Study: A Pathway to Enhanced Health
Unicity Balance is an integral part of the Feel Great System—a scientifically supported wellness program that's revolutionizing health worldwide. A recent Feel Great Study showed marked improvements in cardiometabolic health metrics, including reductions in non-HDL, LDL, and total cholesterol, alongside lower triglyceride and HbA1c levels. Participants in the study also saw notable reductions in body weight and waist size.
The success of the Feel Great System, which combines Unicity's Unimate yerba mate, the Balance fiber matrix, and a regimen of intermittent fasting, is evident. Get my exclusive, in-depth Feel Great eBook to fully understand the Feel Great System. Inside, you'll find a detailed explanation of the system, insights from health experts, and the science behind time-based eating. Get your copy now and begin your journey to better health.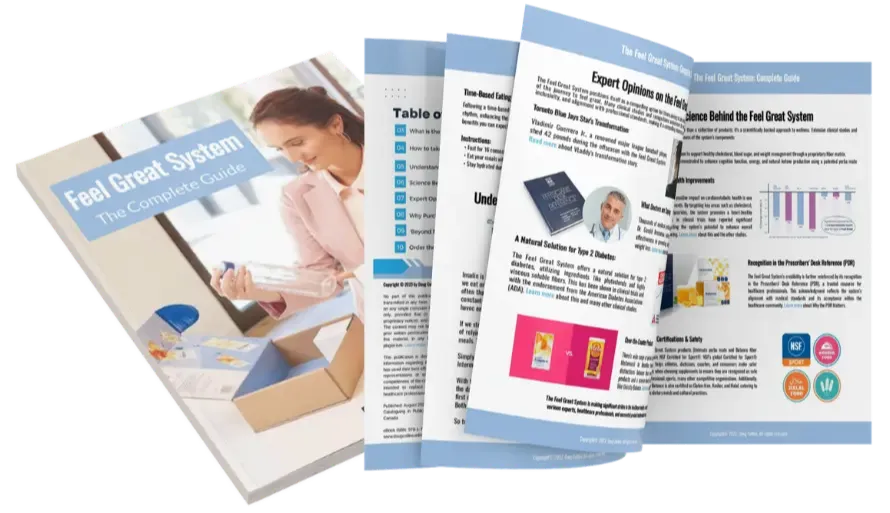 This article, originally published on March 23, 2022, has been extensively updated on November 8, 2023 to offer a more descriptive list of ingredients for Unicity Balance, along with new resources and links.
Related Articles:
---
Order Unicity Balance at the lowest discounted Wholesale Pricing and Satisfaction Guaranteed!
Unicity Balance.
Fiber Matrix Drink
1 Box | 60 Packets
Feel Better Than You Have In Years!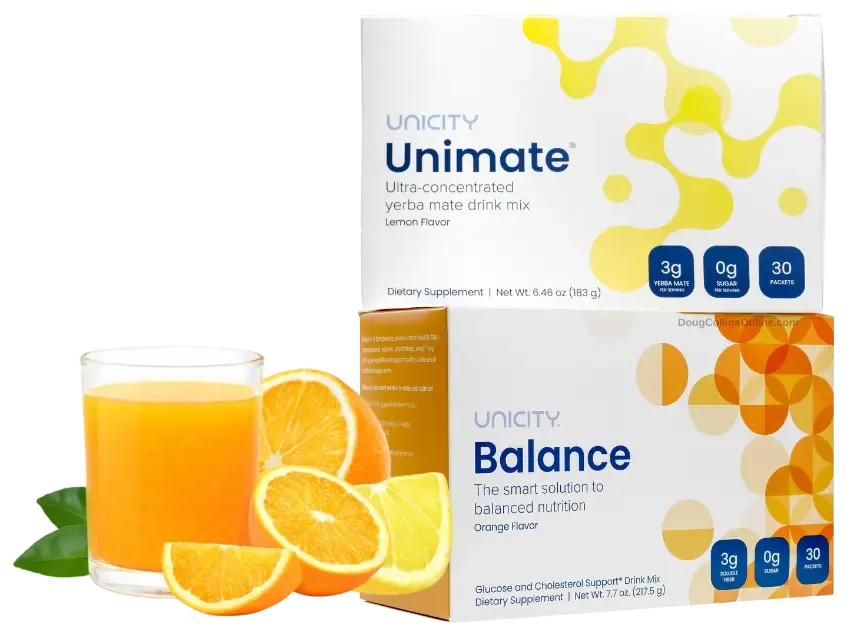 The Feel Great System
More Energy! Healthy Blood Sugar Levels! Weight Loss!
Even If Everything Else You Tried Before Has Failed!
Order today! 100% Satisfaction Guarantee!
Click the Message/Chat Button
Buy Now