Glyburide vs. Unicity Balance: Insulin Blood Glucose Benefits Comparison
Dec 08, 2021
Glyburide is the generic name of the drug, it is typically given to patients who cannot manage their type 2 diabetes with the standard first line therapy, Metformin.
Glyburide belongs to a class of drugs called sulfonylureas, and metformin is in a class of drugs called biguanides. Glyburide causes your pancreas to release more insulin into the bloodstream. Metformin reduces the absorption of sugar from the stomach, reduces the release of stored sugar from the liver, and helps your body use sugar better.
Glyburide History
Glibenclamide, known as Glyburide, was discovered in 1969 and was granted FDA approval on 1 May 1984. The formulation of using it with metformin was granted FDA approval on on 31 July 2000. Glyburide and Metformin are not used to treat type 1 diabetes or diabetic ketoacidosis (a serious condition that may occur if high blood sugar is not treated).
In 2018, Glyburide was the 203rd most commonly prescribed medication in the United States, with more than 2 million prescriptions. In 2019 it was the 254th most commonly prescribed.
Glyburide is available as a generic drug manufactured by many pharmaceutical companies and is sold under many brand names including Gliben-J, Daonil, Diabeta, Euglucon, Gilemal, Glidanil, Glybovin, Glynase, Maninil, Micronase and Semi-Daonil.
Glyburide is also available in combination with Metformin that is sold under various trade names, including Bagomet Plus, Benimet, Glibomet, Gluconorm, Glucored, Glucovance, Metglib and many others.
Glyburide Side Effects
Glyburide is considered a "high risk medication". According to the Canadian Agency for Drugs and Technologies in Health report dated 2015, "Glyburide has been associated with an increased risk for hypoglycemia and long-term cardiovascular mortality".
To reduce the risk of side effects, it is often directed to start this medication at a low dose and gradually increase your dose. The Common side effects of glyburide include:
Heartburn
Stomach upsets
Nausea
Feeling sick
Joint and muscle aches are also side effects of glyburide
Unclear vision
Slight rash or redness of the skin.
Some of the more severe side effects of glyburide include:
Unfamiliar bleeding (bleeding gums, nose bleeding) or bruising
Abrupt feeling sickness, weakness, chills, fever, mouth and throat sores, swollen or red gums and difficulty in swallowing
Severe glyburide symptoms of liver complications such as itching, upper stomach pains, lack of appetite, fatigue, clay colored stools, dark urine and jaundice
Signs of reduced levels of sodium in the body like confusion, headache, serious weakness, distorted speech, feeling unstable, loss of coordination.
The Medical Paradigm Has It Wrong
According to Dr. Benjamin Bikman, internationally renowned metabolic scientist, pathophysiology professor and author of numerous books including Why We Get Sick and Insulin Resistance (click here to download the book for free), he says that type 2 diabetes is an insulin problem, not a glucose problem. Dr. Bikman is one of the leading researchers on Insulin Resistance, understanding the role it plays and why so many of the worlds population is developing type 2 diabetes at epidemic proportions.
"

Giving insulin to a patient with Type 2 diabetes is similar to giving an alcoholic another glass of wine and hoping that will solve the problem

." ~ Dr. Benjamin Bikman
Unicity Balance: Healthy Blood Sugar Levels Naturally
Unicity Balance is the #1 clinically proven natural alternative, and it's the safer option. This natural plant based fiber drink has been clinically proven to balance blood sugars, as well as raise HDL, lower LDL, lower triglyceride, lower homocystein, and balance blood pressure within 60 days.
History of Unicity Balance
Unicity Balance (originally called Bios Life) was first developed by scientists at the University of Santa Barbara in 1986 while conducting research using natural fibers to manage serum cholesterol. Now more than 35 years later, Unicity Balance continues to be the most recommended natural health supplement by doctors and healthcare professionals worldwide.
Unicity Balance is made by Unicity International, a world leader in metabolic health. Unicity is most known as the founders of the Feel Great System, which consists of using Unicity Balance fiber matrix along with another unique yerba mate drink called Unimate.
How Balance Works
Balance works by slowing the rate your body turns food into glucose. Balance effectively limits the amount of insulin needed. Instead of turning glucose into fat, your body will efficiently use the glucose for energy.
Dissolve the contents of one packet or one scoop into 8 to 10 fl. oz. of liquid (water or juice), stir or shake vigorously and drink immediately. Take it 10 to 15 minutes before your meal.
Balance Side Effects
Unicity Balance is well tolerated with all-natural ingredients. There may be mild gastrointestinal discomfort, such as increased flatulence or loose stools, during the first month of initial use due to the increased uptake of dietary fiber. This is a normal reaction as your body begins to acclimate to the increased daily fiber intake. The effects should diminish after 2–3 weeks. If you're very uncomfortable, consider halving cutting back to half a portion of Balance before each meal for 3–7 days.
How Unicity Balance Is Packaged
Balance comes in single serving packets in a box of 60. It is an orange juice powder that provides the distinct light orange flavor and is naturally sweetened with the natural plant stevia.
It is provided in the form of a drink mix and not in tablet form because you would need to take 7-8 per serving to get the amount of needed ingredients in one serving of Balance. More importantly, Balance works because it forms a large gel matrix when it dissolves in water together with the calcium salt in it. A tablet would be too condensed and would not form the necessary gel matrix.
Should I continue to drink Unicity Balance when I have reached my healthy

blood sugar levels?
Unicity Balance has been clinically tested in numerous medically supervised studies to help patients achieve their health goals, often within 60 to 90 days. However, taking Unicity Balance for prevention purposes is highly recommended. Most people make taking Unicity Balance a lifestyle choice as part of Feel Great System and continue taking it even after their cholesterol, fat loss or blood sugar goals have been reached.
Higher amounts of fiber is an important part of a lifelong healthy diet and will achieve ongoing good health, higher energy, better digestive function, and maintenance of recommended cholesterol levels, sugar balance and weight. In short, Balance should be a way of life and is a product everyone should benefit from.
What other benefits does Unicity Balance offer?
During the last three decades Balance has been through extensive clinical studies worldwide (including placebo and double blind) proving its benefits, as listed below. Clinical results that a Metformin does not offer.
Reduces and balances blood sugar levels safely & naturally.
Improves your cholesterol levels (both HDL & LDL), and reduces the risk of heart attacks and strokes.
Lowers triglycerides, and reduces the risk of heart disease & stroke.
Reduces insulin resistance.
Decreases leptin resistance.
Reduces the glycemic index of foods you eat.
Absorbs, removes, & helps your body burn excess fat.
Reduces your appetite – reduces cravings & over-eating.
Promotes a healthy digestive function & regulates bowel function.
Contains a 100% of your recommended daily intake for many essential vitamins and minerals.
Helps increase your energy levels & reduces effects of stress.
Contributes to the protection of cell constituents from oxidative damage.
Examples of Clinical Results
Unicity Balance has been extensively studied, peer-reviewed, and published in the medical journals. The clinical trials have been conducted by leading medical institutions including Cleveland Clinic, UCLA, Columbia University, Mayo Clinic and Stanford School of Medicine to name just a few.
Prescribers Desk Reference (PDR)
Unicity Balance has been listed in the Prescribers Desk Reference (PDR) since 2002, the go-to resource for physicians requiring information about prescription and non-prescription treatment options. Unicity Balance is referenced as the first recommended course of treatment for the safe lowering of serum cholesterol.
Superior to other OTC fiber products
Unicity Balance is a great way to improve overall health because it avoids drugs that cause potentially harmful side effects. It is also more beneficial than over the counter (OTC) fiber supplements that "claim" to offer blood sugar and cholesterol benefits.
For more information on Unicity Balance, visit:
---
Order Unicity Balance at the lowest discounted Wholesale Pricing and Satisfaction Guaranteed!
Unicity Balance.
Fiber Matrix Drink
1 Box | 60 Packets
Feel Better Than You Have In Years!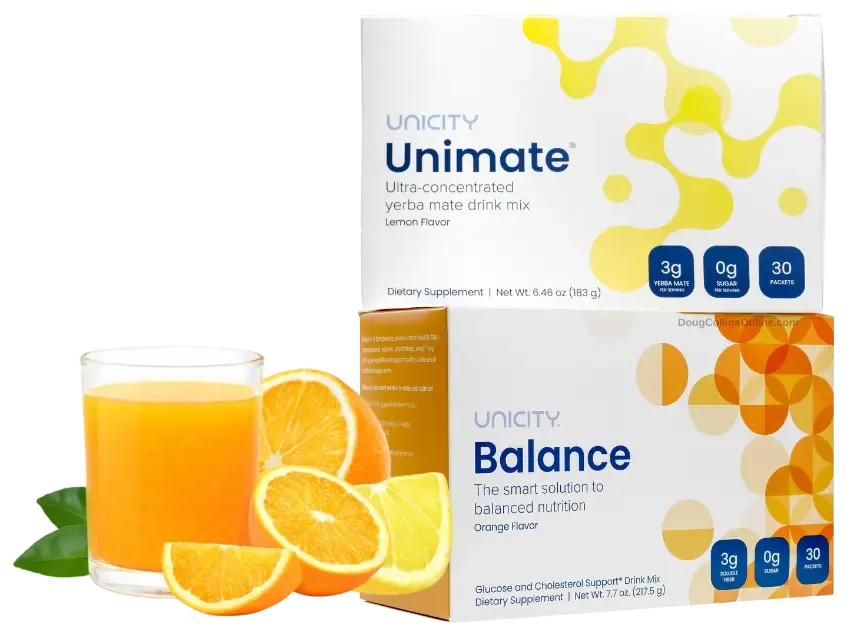 The Feel Great System
More Energy! Healthy Blood Sugar Levels! Weight Loss!
Even If Everything Else You Tried Before Has Failed!
Order today! 100% Satisfaction Guarantee!
Click the Message/Chat Button
Buy Now