Statin Drugs vs. Unicity Balance: Cholesterol Benefits Comparison
Nov 24, 2021
Statins are among the most commonly prescribed drugs with 1 in 4 North Americans over the age of 40 taking statins. Statin use has gone up more than 80% in the last 20 years.
In this article we will compare Unicity Balance fiber matrix with Cholesterol lowering drugs, commonly known as statins. Statins are prescription medications that lower LDL (bad) cholesterol levels in the body. Some of the more popular brands of statins are Lipitor, Pravachol, Zocor and Mevacor. Some doctors even recommend statins to their patients who don't have high cholesterol, as "a precaution".
How Statins Work
Statin drugs work by blocking the enzyme that your liver needs to produce cholesterol. Although statins have limited effect on HDL (good) cholesterol, it does succeed in lowering your LDL cholesterol. However, side effects of statins are very serious.
Statins may lower cholesterol, but they do not address the underlying cause of heart disease, which is typically chronic inflammation (some people are genetically predisposed to cardiovascular disease). The body uses cholesterol to repair arteries damaged by inflammation — the primary cause of heart attacks and strokes.
What is Cholesterol
Cholesterol as a vital compound in the body for multiple functions, including brain function, muscle strength, nerve cells, and is found in every cell of the body.
When you do a cholesterol test the report will show many numbers. Understanding what they mean, is extremely important. The 6 numbers you will see are:
TC - Total Cholesterol (LDL + HDL)
LDL Cholesterol
HDL Cholesterol
CR - Cholesterol ratio
VLDL - Triglycerides
Homocystein
If your Total Cholesterol is too low, you also have a problem as cholesterol is required to produce hormones including sex hormones. But if your Total Cholesterol is very high because of high HDL Cholesterol reading, then your risk of Cardiovascular Disease is low.
HDL cholesterol, or "good" cholesterol, appears to scour the walls of blood vessels, cleaning out excess cholesterol. It then carries that excess cholesterol, which otherwise might have been used to make the "plaques" that cause coronary artery disease, back to the liver for processing. So when we measure a person's HDL cholesterol level, we seem to be measuring how vigorously the blood vessels are being "scrubbed" free of cholesterol.
To prevent heart attacks, strokes and other cardiovascular diseases, watch that you have a high HDL cholesterol, and low levels of Triglycerides and Homocystein levels. Overly low cholesterol is linked with an increased risk of several health disorders, including diabetes.
Statins Linked To Higher Risks of Many Health Disorders
Statins cause many unwanted side effects including muscle weakness and wasting, migraine headaches, difficulty sleeping and dizziness. They also increase the risk of high blood sugar, kidney problems, insulin resistance and type 2 diabetes. In addition to these, research has has shown that statin side effects could include sexual dysfunction and performance problems, as well as liver damage, memory loss, personality changes and irritability.
One study of almost 9,000 people showed that people in their sixties who used statins had an almost 40% higher risk of type 2 diabetes. They also had higher rates of high blood sugar and pre-diabetes, or insulin resistance. High blood sugar disorders underpin numerous chronic inflammatory conditions, including Alzheimer's and dementia.
Another paper published in the American Journal of Cardiovascular Drugs cites nearly 900 studies on the adverse effects of statins. That review provided the most complete picture of reported side effects of statins including:
An increase in cancer risk
Immune system suppression
Serious degenerative muscle tissue condition (rhabdomyolysis)
Pancreatic dysfunction
Cognitive loss
Neuropathy
Anemia
Acidosis
Frequent fevers
Cataracts
Sexual dysfunction
Unicity Balance: Improving Heart Health Without Statins
Although statin medications can lower cholesterol levels, Unicity Balance is the #1 clinically proven natural alternative, the safer option. This natural plant based fiber drink has been clinically proven to raise HDL, lower LDL, lower triglyceride, lower homocystein, balance blood pressure, balance blood sugar within 60 days.
Unicity Balance was first developed by scientists at the University of Santa Barbara in 1986 while conducting research using natural fibers to manage serum cholesterol. Now more than 35 years later, Unicity Balance continues to be the most recommended natural health supplement by doctors and healthcare professionals worldwide.
Unicity Balance has been extensively studied, peer-reviewed, and published in the medical journals. The clinical trials have been conducted by leading medical institutions including Cleveland Clinic, UCLA, Columbia University, Mayo Clinic and Stanford School of Medicine to name just a few.
Unicity Balance is made by Unicity International, a world leader in metabolic health. Unicity is most known as the founders of the Feel Great System, which consists of using Unicity Balance fiber matrix along with another unique yerba mate drink called Unimate.
Thirty Years of Clinical Results
Clinical studies have shown that Balance reduces LDL (bad) cholesterol by 31% in only eight weeks. It improves HDL (good) cholesterol levels by an average of 29% in the same eight weeks. It also reduces triglyceride levels an average of 40%. There is no known clinically proven medication or natural product in the world that offers these three combined benefits to help reduce one's risk of cardiovascular disease.
In a long-term clinical trial conducted by the prestigious Cleveland Clinic, considered by many the #1 Heart Institute in the US, Unicity Balance was found to be a safe and effective method to reduce cholesterol, blood sugars, and harmful lipids.
Unicity Balance has been listed in the Prescribers Desk Reference (PDR) since 2002, the go-to resource for physicians requiring information about prescription and non-prescription treatment options. Unicity Balance is referenced as the first recommended course of treatment for the safe lowering of serum cholesterol.
Unicity Balance is a great way to improve cardiovascular health because it avoids drugs that cause potentially harmful side effects. It is also more beneficial than over the counter (OTC) fiber supplements that "claim" to offer cholesterol benefits.
Unicity Balance is made by Unicity International, a global science-based metabolic health company dedicated to developing innovative, science-based products and programs that promote metabolic health and improve the quality of life for people everywhere.
For over 30 years, Unicity has been dedicated to developing high-quality products that contain the vital nutrients your body needs. With the proper process, cutting-edge technology, and a mission to Make Life Better, Unicity Science is paving the way for a better tomorrow.
Unicity Has Four Areas of Focus:
Research & Development: The department begins with extensive research that then leads to innovative ideas. The ideas are then developed into unique formulas made with only the best ingredients.
Quality Assurance: Unicity has 28 manufacturing sites and four major warehouses worldwide. By conducting regular inspections and audits, Quality Assurance ensures that each site operates with only the highest industry standards and practices.
Regulatory Affairs: Regulatory Affairs makes sure that each product formulation is regulatory compliant with Unicity's 60+ international markets. From Algeria to South Korea, Unicity is committed to creating products that are compatible with every country and culture.
Unicity Scientific Advisory Board (USAB): Unicity collaborates with a team of well-respected and world-renowned scientists, medical professionals, and experts known as the Unicity Scientific Advisory Board (USAB). The USAB advises and educates on Unicity products as well as on the latest scientific developments related to nutrition.
For more information on Unicity Balance, visit:
---
Order Unicity Balance at the lowest discounted Wholesale Pricing and Satisfaction Guaranteed!
Unicity Balance.
Fiber Matrix Drink
1 Box | 60 Packets
Feel Better Than You Have In Years!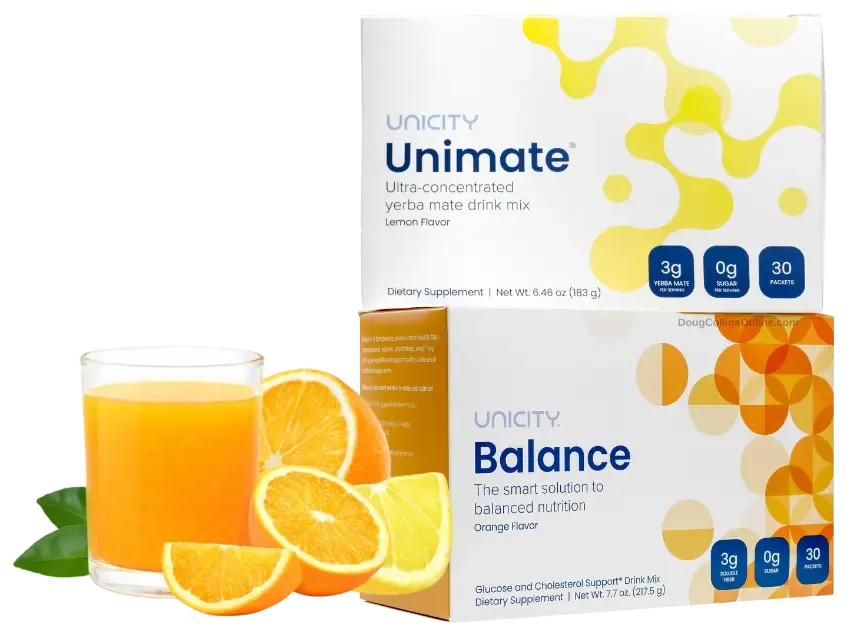 The Feel Great System
More Energy! Healthy Blood Sugar Levels! Weight Loss!
Even If Everything Else You Tried Before Has Failed!
Order today! 100% Satisfaction Guarantee!
Click the Message/Chat Button
Buy Now