The Feel Great System vs. Health Fads: A Clinically Proven Path to Better Health
Sep 13, 2023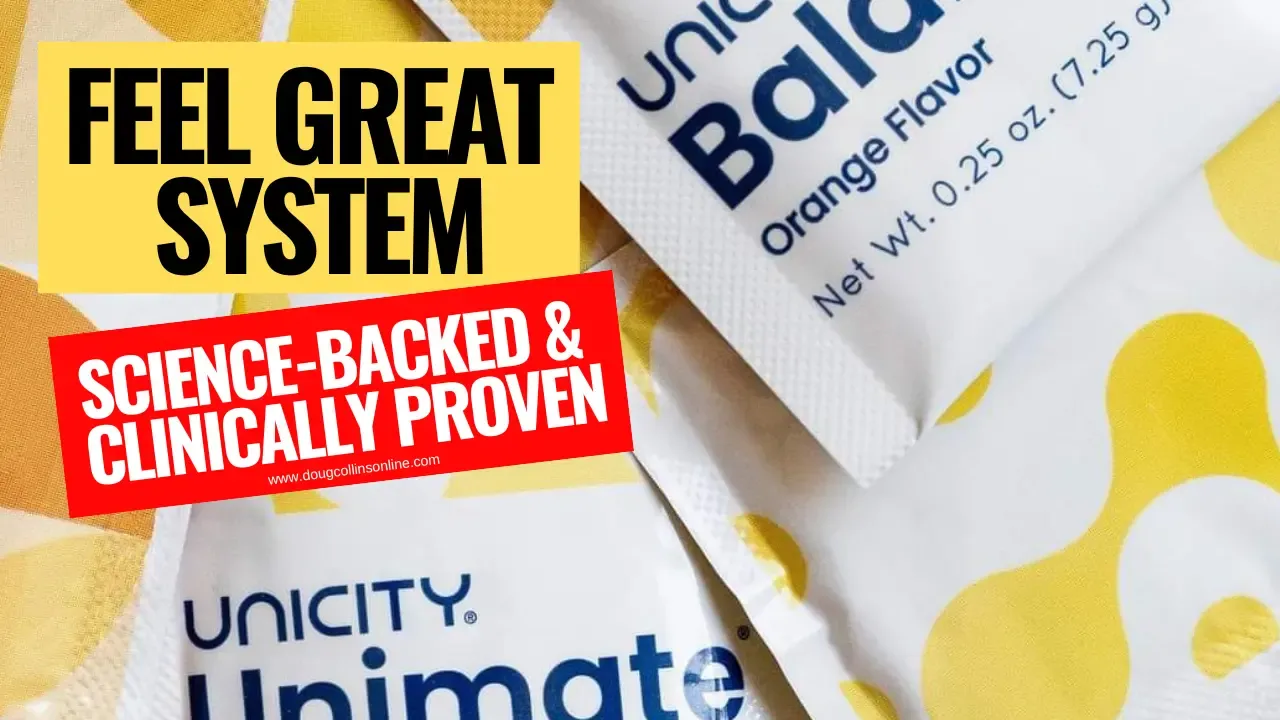 Are you tired of health fads that don't deliver? Discover the Feel Great System, a science-backed approach to achieving optimal health that's turning those struggling for real answers into people who are finally finding answers.
The market is saturated with supplements making grand promises, often without scientific validation. These are frequently sold by companies uninvolved in their production. In contrast, the Feel Great System is grounded in scientific research. Its two cornerstone products, Unicity Unimate Yerba Mate and Balance Fiber, have been studied by esteemed institutions like the Cleveland Clinic and the University of Sydney, elevating the system beyond the ordinary.
Passing Trends and Radical Health Claims
The Feel Great System isn't just a fleeting health fad. Developed over three decades and endorsed by medical professionals, it offers a clinically proven path to better health. However, the rise of social media has led to an influx of quick fixes and fad diets, often lacking scientific credibility. This misinformation usually aims to profit from people's health struggles.
Misleading and Reckless Claims even with the Feel Great System
Unfortunately, I've seen misleading claims and even plagiarism among those promoting the Feel Great System online. Some suggest that you can continue eating unhealthy foods while using the products and still experience miraculous health improvements. This is simply not true.
Imagine a world where a couple of products could magically fix all our health issues. The reality is, achieving optimal health requires a balanced approach. This understanding inspired me to write my book, "Beyond Feel Great: The Real System to Unlock the Secrets to Better Health."
What sets the Feel Great System apart is Unicity International's commitment to research and development. The system's products, Unimate Yerba and Balance Fiber, are backed by scientific research from renowned institutions, making it genuinely a science-backed effective solution for optimal health.
Unicity's Feel Great System Commitment to Quality Assurance and Third-Party Verification
The Feel Great System's quality is met by the rigorous standards and certifications Unicity adheres to. The Feel Great System products, Unimate yerba mate and Balance Fiber Matrix, are NSF Certified for Sport®, and their listings can be found on the NSF Certified for Sport® website. NSF's global Certified for Sport® program helps athletes, dieticians, coaches, and consumers make safer decisions when choosing supplements, ensuring they are recognized as safe for professional sports and many other competitive organizations. Additionally, Unicity Balance is also certified as Gluten-free, Kosher, and Halal, catering to various dietary needs and cultural practices.
Many people wonder if the Feel Great System products are FDA approved, but in the United States, dietary supplements are regulated as a category of foods and not subject to specific FDA approval. However, in Canada, dietary supplements are categorized as "Natural Health Products" (NHPs) and treated as non-prescription drugs by Health Canada.
The Science Behind Unimate Yerba Mate
Unimate, introduced in 2017, has already made a significant global impact. A clinical study in Zurich showed its potential for improving blood glucose, lipids, and blood pressure. The key ingredient, yerba mate, has been extensively studied and shows promise in various health aspects.
Multiple studies have highlighted the benefits of yerba mate in improving metabolic health. In a 2015 study published in the journal "Nutrients," researches highlighted the benefits of yerba mate as related to the growing global issue of obesity and its related health risks.
Research published in journals like the European Journal of Nutrition, Journal of Ethnopharmacology, and Nutrition & Diabetes between 2012 and 2017 consistently found that yerba mate increases GLP-1 levels, which is beneficial for insulin resistance and weight management. A 2012 study by the National Institute of Health also confirmed yerba mate's anti-obesity effects and its role in regulating glucose levels.
While prescription medications like Ozempic are commonly used for managing blood sugar and weight, the studies on yerba mate stand as a clinically validated natural alternative. Multiple peer-reviewed studies have consistently shown yerba mate's effectiveness in increasing GLP-1 levels, improving insulin resistance, and offering anti-obesity benefits.
This makes, Unimate yerba mate, as key component of the Feel Great System a compelling, science-backed option for those seeking a natural route to better metabolic health.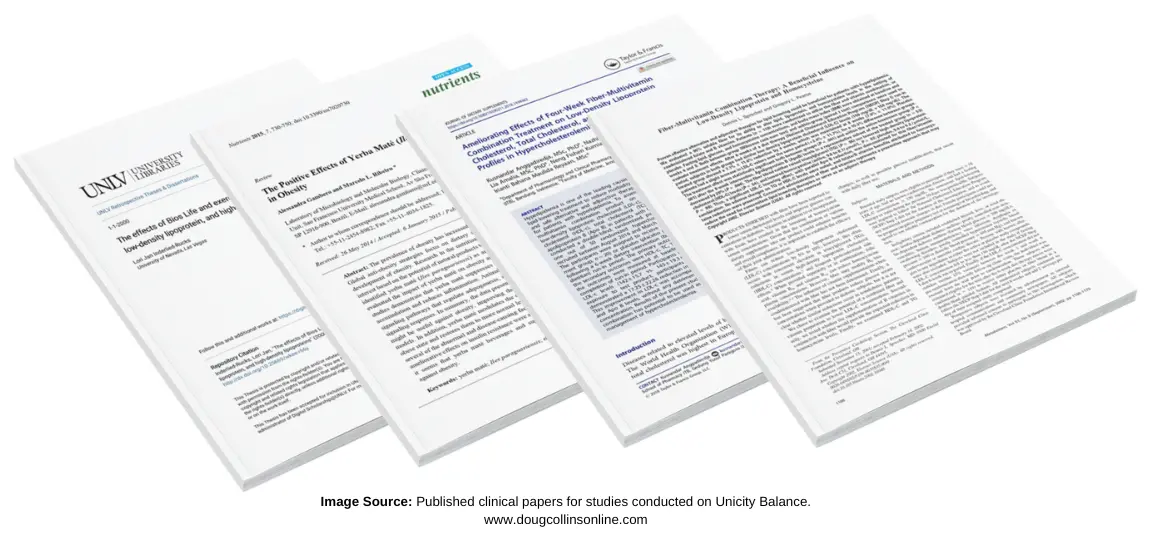 Balance Fiber Matrix: The History and Science
The second product in the Feel Great System is Unicity Balance, a fiber matrix has been a game-changer in metabolic health sciences since its creation 1986 at the University of Santa Barbara and later coming on the market as Bios Life Diet by Rexall. It has evolved through multiple rebrandings, each backed by rigorous scientific research.
Now more than 35 years later, Unicity Balance continues to be the most recommended natural health supplement by doctors and healthcare professionals worldwide.
Balance isn't just another fiber supplement; it's a product that has consistently proven its effectiveness in scientific studies for managing blood glucose levels, managing weight, reducing complications from type 2 diabetes, cholesterol and lipid levels, and even improving insulin response.
In October 2018 the Journal of Dietary Supplements published a double-blind, randomized placebo controlled clinical study done in Indonesia on how Unicity Balance can improve bad cholesterol, total cholesterol, and Apo B levels in people with high cholesterol. In another study, published in the Diabetes in Control August 2000 issue, showed evidence of the clinical impact of Balance on diabetes.
Real Results: A 60-Day Feel Great System Study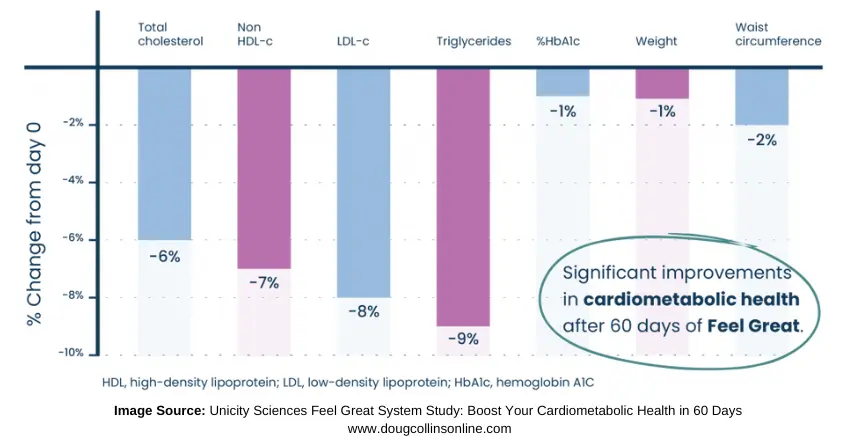 A recent 60-day study on the Feel Great System showed significant improvements in metabolic health markers, including blood lipids, triglycerides, and HbA1c levels. Participants saw decreases in body weight, waist circumference, and cholesterol levels.
Here are two more similar studies conducted that feature the benefits including an enhanced feeling of wellbeing and appetite control.
Medical Endorsements of the Feel Great System
The Feel Great System and its two products, has earned the support of medical professionals, further solidifying its credibility.
Dr. Neil Secrist considers it his go-to method for preventing cardiovascular disease.
Dr. Gerald Bresnahan, a renowned cardiologist, is also a strong advocate.
Coleen Andruss, MD, finds it to be the most effective approach for fat loss in her 30 years of practice.
Additional Credibility: Feel Great System Listing in the PDR
The Feel Great System products are listed in the Physicians' Desk Reference (PDR), a trusted resource for healthcare professionals, adding another layer of credibility. Ninety percent of healthcare professionals regard the PDR as their most essential source of reliable information. They trust it to guide them in making informed decisions about advising patients on product usage.
Managing Type 2 Diabetes with the Feel Great System
The Feel Great System offers a natural solution for managing Type 2 diabetes, using potent ingredients like phytosterols and soluble fibers. Even the American Diabetes Association has endorsed Unicity Balance as having a crucial role in managing blood glucose levels and reducing complications from Type 2 diabetes.
There are many medications like metformin and glyburide used as first-line treatments in the medical profession have proven in clinical trials to not have lasting benefits and there are many supplements with claims to offer an alternative solution.
The combination of Unicity Balance fiber matrix and Unimate yerba mate, as part of the Feel Great System, is a great way to improve overall health because it avoids drugs that cause potentially harmful side effects. It is also more beneficial than over the counter (OTC) fiber supplements that "claim" to offer blood sugar and cholesterol benefits.
Judy Gillman, a nurse practitioner and certified diabetes educator, finds the Feel Great System to be a game-changer for stabilizing blood glucose, lipids, and weight. She says, "Being able to stabilize these key health metrics with the Feel Great System products has truly been a gift for people."
Got questions about the Feel Great System, Balance, or Unimate? I've got you covered! Dive into my comprehensive FAQ pages to get all the answers you need. Whether you're curious about the science behind the Feel Great System, wondering how Balance can help manage your weight or control blood sugars, or interested in the health benefits of Unimate, my FAQs are your go-to resource for in-depth information. Don't just take my word for it—explore the FAQs and empower your journey to optimal health!
Ready to take control of your health the scientific way? Get started with the Feel Great System and experience the difference. To learn more, download my Feel Great eBook.
Related Articles:
---
Get the Feel Great System eBook PDF Guide sent to you immediately!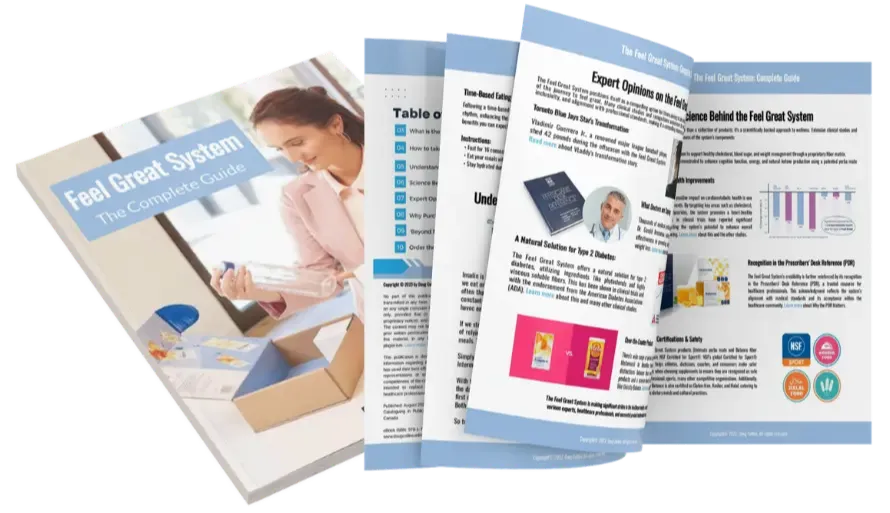 Feel Better Than You Have In Years!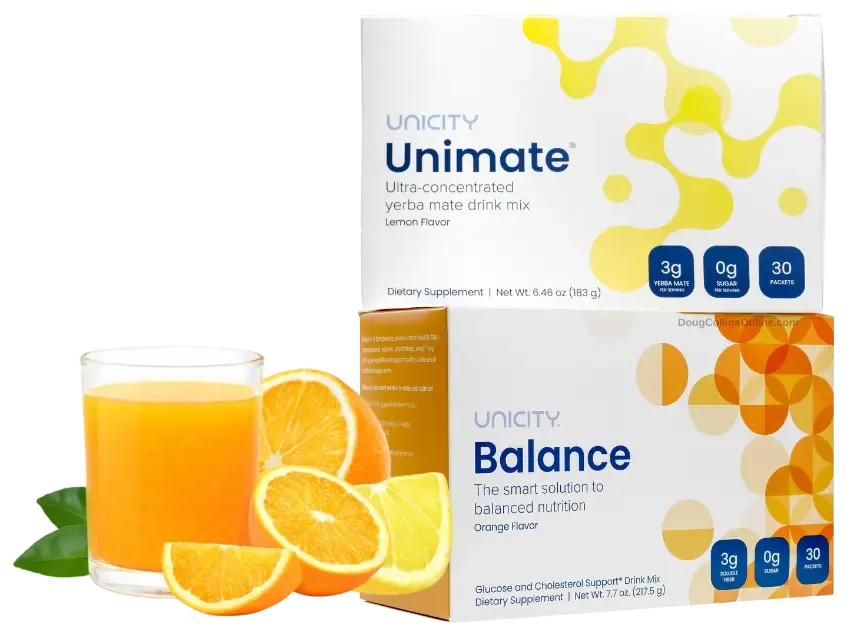 The Feel Great System
More Energy! Healthy Blood Sugar Levels! Weight Loss!
Even If Everything Else You Tried Before Has Failed!
Order today! 100% Satisfaction Guarantee!
Click the Message/Chat Button
Buy Now