University of Sydney: Blood Glucose and Blood Insulin Study | Unicity Balance Fiber Matrix
Mar 10, 2022
Because of the unwanted side effects of these glucose medications, there is a growing interest in non-pharmaceutical options. Unicity Balance has been well
documented with a peer-reviewed published papers as the natural
non-pharmaceutical option to maintain healthy blood sugar levels.
The University of Sydney is a public research university located in Sydney, Australia. Founded in 1850 as Australia's first university, it is regarded as one of the world's leading universities. It is also home to the International Glycemic Index (GI) Database maintained by the Human Nutrition Unit, and the Sydney University Glycemic Index Research Service (SUGiRS).
The Sydney University Glycemic Index Research Service (SUGiRS) has an established commercial GI testing laboratory, where they test foods for their glycemic index, insulin index, satiety response, and other metabolic parameters.
University of Sydney Clinical Trial
In 2001, Unicity International partnered with the University to conduct two separate studies. The purpose of one study was to quantitatively measure on the impact of their fiber-rich nutritional supplement, Bios Life Slim (now branded as Unicity Balance in most global markets), on the glycemic index of three common foods:
white bread
white rice
instant mashed potatoes
The results indicated that Unicity Balance is effective at dampening healthy individuals' glucose and insulin responses to starchy meals. In each case, it reduced the glycemic indices from "high" glycemic foods to "medium" glycemic foods.
The second study conducted was to determine how the Balance fiber matrix would affect blood glucose and blood insulin levels following the consumption of white bread.
Results showed that one serving of Unicity Balance reduced blood glucose levels by 20% and blood insulin levels by 13%, and two servings of Unicity Balance reduced blood glucose levels by 28% and blood insulin levels by 27%.
In both studies, University researchers concluded that Unicity Balance fiber matrix is effective at dampening individuals' glucose and insulin responses to starchy meals.
The Effect of Fiber-Rich Nutritional Supplement, Bios Life Slim, on the Glycemic and Insulin Index of Three Common Starchy Foods
Unicity Balance Fiber Matrix
Unicity Balance, formally called Bios Life, was first developed by scientists at the University of Santa Barbara in 1986 while conducting research using natural fibers to manage serum cholesterol. Now more than 35 years later, Unicity Balance continues to be the most recommended natural health supplement by doctors and healthcare professionals worldwide.
Unicity Balance has been extensively studied, peer-reviewed, and published in the medical journals. The clinical trials have been conducted by leading medical institutions including the Cleveland Clinic, UCLA, Columbia University, Mayo Clinic and Stanford School of Medicine to name just a few.
Unicity Balance Prescribers Desk Reference (PDR) Listing
Unicity Balance has been listed in the Prescribers Desk Reference (PDR) since 2002, the go-to resource for physicians requiring information about prescription and non-prescription treatment options. Unicity Balance is referenced as the first recommended course of treatment for the safe lowering of serum cholesterol and blood glucose.
The fiber matrix in Unicity Balance limits the rapid increase of sugar levels by spreading out and limiting the sugar absorption after meals, which reduces the glycemic index of the foods you eat.
The resulting balance in your sugar levels gives you more usable energy throughout the day and also prevents you from giving in to your sugar cravings. The lower, more stable glucose levels in the blood are also very beneficial for your pancreas, as it requires less insulin.
The studies with Unicity Balance have shown that diabetics will reduce their sugar levels after the meal using the Balance fiber matrix, and the lower insulin levels will help to eliminate your belly fat and improve your overall health.
It also has natural ingredients that work to lower bad LDL cholesterol, raise your good HDL cholesterol, lower triglycerides, and also works to lower/normalize your blood pressure. The added proprietary chromium in Balance further reduces insulin resistance and allows a further decrease in average glucose levels.
Hundreds of doctors are recommending Unicity Balance with each having between 500 and 1000 of their patients using it to effectively normalize diabetes, weight, cholesterol, triglycerides, and blood pressure.
If you are looking for a natural safe and effective alternative to medications visit the links below for more information. If you are a healthcare professional and would like additional information about offering Unicity Balance to your patients, send me a message to schedule a private consultation, or call directly at 1-800-530-4505.
For more information on

Unicity Balance for blood glucose, visit:
---
Order Unicity Balance at the lowest discounted Wholesale Pricing and Satisfaction Guaranteed!
Unicity Balance.
Fiber Matrix Drink
1 Box | 60 Packets
Feel Better Than You Have In Years!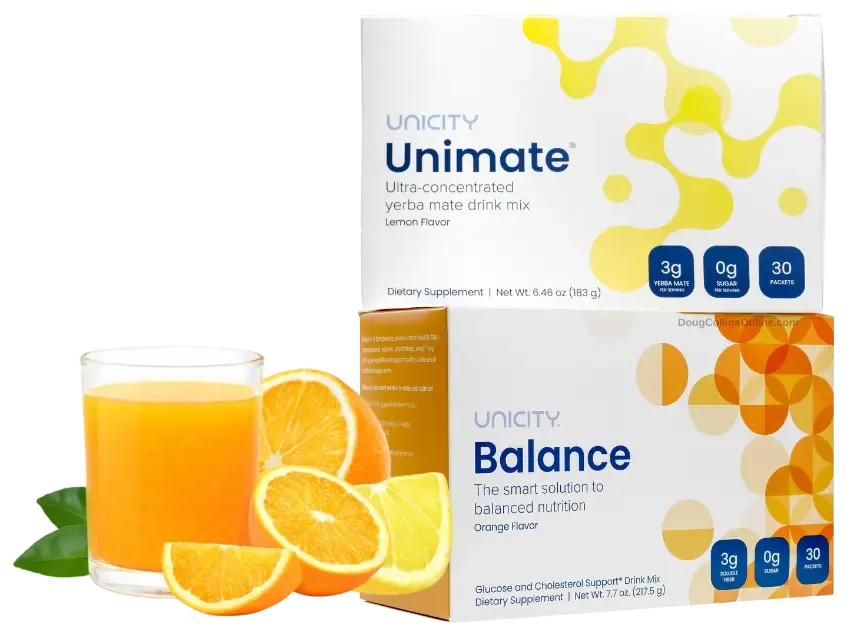 The Feel Great System
More Energy! Healthy Blood Sugar Levels! Weight Loss!
Even If Everything Else You Tried Before Has Failed!
Order today! 100% Satisfaction Guarantee!
Click the Message/Chat Button
Buy Now