The Feel Great System: Unimate Yerba Mate & Balance Fiber with Time-Restricted Eating
Mar 24, 2022
The Feel Great System consists of two science-based food products. The first is Unicity Unimate yerba mate drink and the second is Unicity Balance fiber matrix. When used together as a system these products are clinically proven to make a healthy lifestyle not only doable, but also achievable.
The Feel Great System is based on science-based principles that combines two natural food-based products that work synergistically to boost energy levels, support healthy blood sugar levels, reduce insulin resistance, control hunger, food cravings, mood and weight loss.
The Feel Great System Approach
Time-based eating, often referred to as intermittent fasting, has been associated with numerous health benefits:
Healthy blood pressure
Improved heart health
Improved body composition through healthy blood sugars and lowering insulin resistance
Sounds great, right? Well, it's easier said than done. The trouble with intermittent fasting is that it is HARD. Few people are able to stick with the practice long enough to achieve real results.
That is where The Feel Great System comes in. By using Unimate yerba mate and Balance fiber matrix drinks, they work together to help you extend the time between dinner and your first meal of the following day.
Here would be a typical daily routine following The Feel Great System: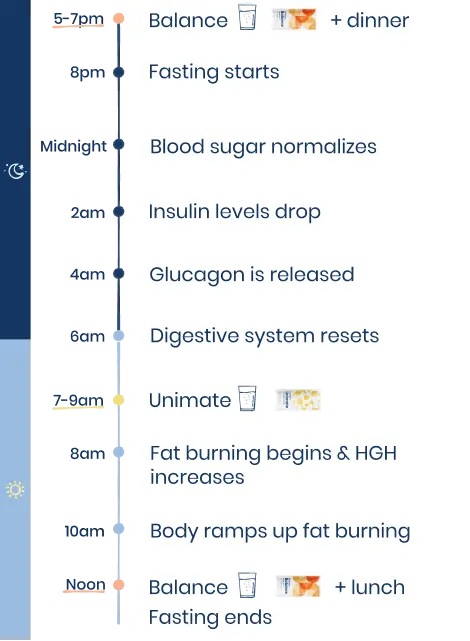 The Feel Great System Products
Unicity Unimate is highly concentrated yerba mate drink contains a unique blend of plant compounds known to:
Improve mood
Boost energy
Heighten mental clarity
Suppress appetite
Unicity Balance is a patented blend of fibers, nutrients, and plant compounds are specifically designed to:
Slow carbohydrate absorption so you stay full longer
Promote proper digestion and cholesterol absorption
Provide 9 essential vitamins and minerals
How The Feel Great System Works

7am - 9am: Start your day with Unimate. Unimate boosts your morning's focus and energy without breaking your fast.
12pm: Have Balance before your largest meal of the day to slow the impact of the carbohydrates you consume.
6pm - 8pm: Have Balance again before dinner to slow the impact of the carbohydrate you consume and help you through the fasting period.
8pm:

Start your fast after dinner and wait 16 hours before your next meal.
Related Articles:
Feel Better Than You Have In Years!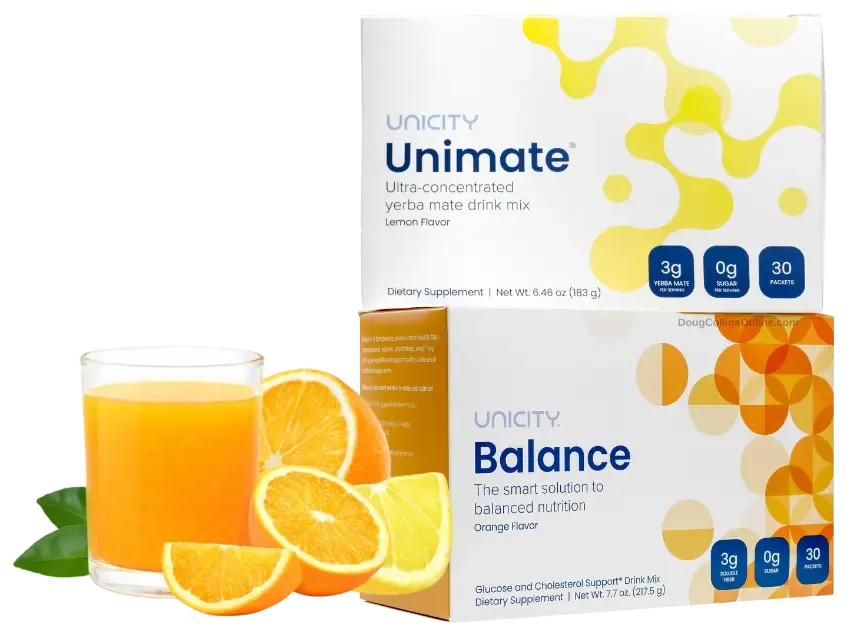 The Feel Great System
More Energy! Healthy Blood Sugar Levels! Weight Loss!
Even If Everything Else You Tried Before Has Failed!
Order today! 100% Satisfaction Guarantee!
Click the Message/Chat Button
Buy Now