Ryan Ouellette's Feel Great System Journey and Update | Unimate Yerba Mate & Balance Fiber
Feb 15, 2022
I would like to introduce you to my friend Ryan Ouellette from Saint John, New Brunswick Canada. Ryan first learned about Unicity in 2015 through a co-worker who shared a product with him.
Background Story
Having always been an active, lightweight boxer, Ryan never thought he would be considered overweight and out of shape. After sustaining a severe concussion and being diagnosed with high cholesterol, his weight spiraled out of control. It was then Ryan learned about Unicity and decided it was time to embrace a healthy and fit lifestyle again.
As Ryan said, "

due to circumstances I just lost my rudder in my life and was I falling apart

".
Not long after Ryan learned about Unicity, I met Ryan while visiting Saint John and we not only became great friends but he embraced the Unicity business opportunity. That's when Ryan learned about the Unicity 12 week Transformation program, he immediately made the decision to be part of this program.
Ryan's Transformation Story
Over that next 12 weeks, Ryan's life had changed so dramatically that is was truly a total life transformation. I am so proud of Ryan Ouellette, in just 12 weeks he dropped 6% body fat, 32 pounds lost and 4" on his waist. His physical fitness and strength was at its peak! Way to go buddy, you are a rock star and we are proud of you! Your story is going to change so many Lives!
"Joining the Transformation program has been the best decision I've made all my life", Ryan posted on Facebook (November 3, 2015).
In January 2016, Ryan submitted his story to the Unicity as part of their Prime Challenge Contest and he was just selected as the GRAND PRIZE WINNER out of thousands of entries submitted from many countries around the world.
His story was so lifechanging that Unicity sent a video crew to Canada from Salt Lake City, Utah to spend time with Ryan in Saint John to document his story, and this amazing journey he's been on.
Ryan's story, as filmed in the video below, is an example to everyone what can be accomplished and what is possible when you grab on to a Vision, set your GPS and take-action. His story is and will continue to impact many more who have yet to learn what is truly waiting for them. We have so much to do in Making Life Better.
The Feel Great System
In 2021, Unicity launched the Feel Great brand as a more focused foundational health system designed to make a healthy lifestyle not only doable and affordable, but also enjoyable.
The Feel Great System consists of two science-based food products. The first one is Unimate, a yerba mate that is superior over all other yerba mate products available on the market. The second product is Balance, a patented fiber matrix that was developed by scientists at the University of Santa Barbara in 1986. These are the two foundational products that were offered in the Transformation program that Ryan used to achieve his results.
In the below video, Ryan shares an update on how he continues to feel with The Feel Great System.
Feel Better Than You Have In Years!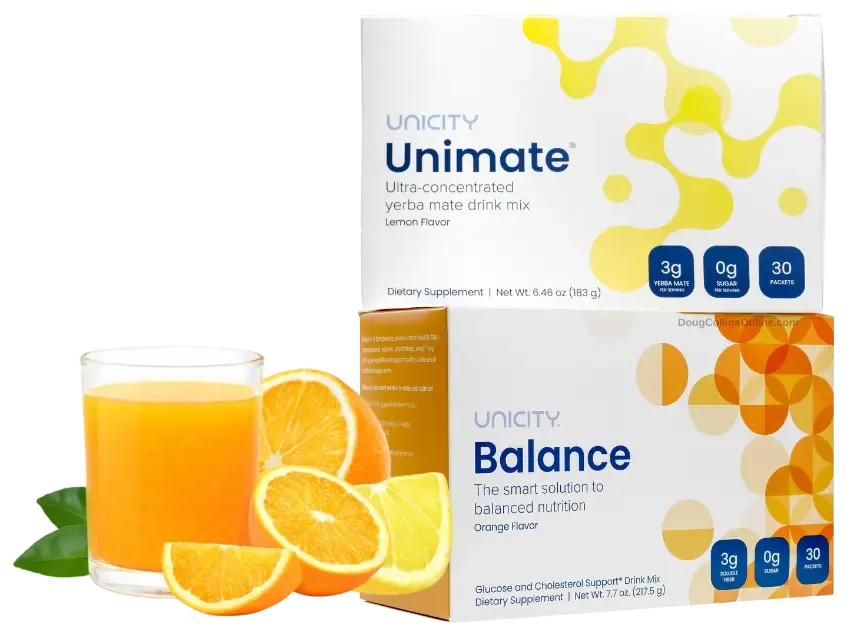 The Feel Great System
More Energy! Healthy Blood Sugar Levels! Weight Loss!
Even If Everything Else You Tried Before Has Failed!
Order today! 100% Satisfaction Guarantee!
Click the Message/Chat Button
Buy Now