Unicity Unimate Yerba Mate: Listed in the Prescribers' Desk Reference (PDR)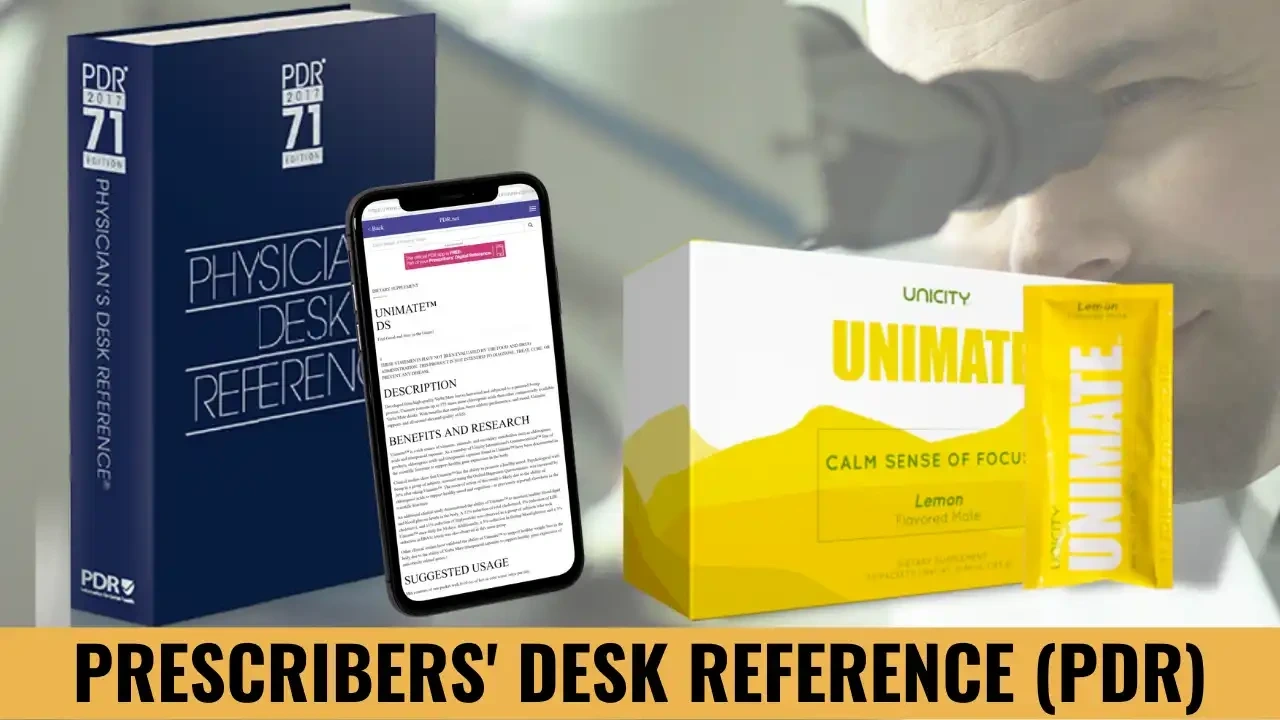 Unicity Unimate was first launched in 2017 after many years of research and patenting the uniquely powerful five-step process: handpicking, fire roasting, active biological molecule extraction, yerba mate concentration, and purification. The result is a yerba mate beverage that is unlike any other commercially available yerba mate drinks.
As a result of this research and clinical studies, Unimate was accepted into the PDR, the only Yerba Mate that is back by science. The recognition that Unicity can bring leading edge science to the age-old tradition of Yerba Mate, and have it approved for for listing in the PDR based on clinical research, should bring encouragement and confidence to our mission in supporting a healthy lifestyle as part of the The Feel Great System.
UNICITY Unimate (citric acid/green mate leaf extract powder/natural flavors/stevia) - Full Prescribing Information
Unicity International
DIETARY SUPPLEMENT
----------
UNIMATE™
DS
Feel Good and Stay in the Game
DESCRIPTION
Developed from high-quality Yerba Mate leaves harvested and subjected to a patented 5-step process, Unimate contains up to 375 times more chlorogenic acids than other commercially available Yerba Mate drinks. With benefits that energize, boost athletic performance, and mood, Unimate supports and all-around elevated quality of life.
BENEFITS AND RESEARCH
Unimate™ is a rich source of vitamins, minerals, and secondary metabolites such as chlorogenic acids and triterpenoid saponins. As a member of Unicity International's Genomeceutical™ line of products, chlorogenic acids and triterpenoid saponins found in Unimate™ have been documented in the scientific literature to support healthy gene expression in the body.
Clinical studies show that Unimate™ has the ability to promote a healthy mood. Psychological well-being in a group of subjects, assessed using the Oxford Happiness Questionnaire, was increased by 20% after taking Unimate™. The mode of action of this result is likely due to the ability of chlorogenic acids to support healthy mood and cognition—as previously reported elsewhere in the scientific literature.
An additional clinical study demonstrated the ability of Unimate™ to maintain healthy blood-lipid and blood glucose levels in the body. A 12% reduction of total cholesterol, 5% reduction of LDL cholesterol, and 11% reduction of triglycerides was observed in a group of subjects who took Unimate™ once daily for 30 days. Additionally, a 5% reduction in fasting blood-glucose and a 3% reduction in HbA1c levels was also observed in this same group.
Other clinical studies have validated the ability of Unimate™ to support healthy weight loss in the body due to the ability of Yerba Mate triterpenoid saponins to support healthy gene expression of anti-obesity related genes.1
SUGGESTED USAGE
Mix contents of one packet with 8-10 oz. of hot or cold water, once per day.
SAFETY AND WARNINGS
Unimate is generally well tolerated. Unimate contains moderate amounts of caffeine; caffeine-sensitive individuals should exercise caution when using this product. Not suitable for pregnant or nursing women and children.
HOW SUPPLIED
Unimate is packaged in single-serve foil packets.
REFERENCES
Heck CI, De Mejia EG. Yerba Mate tea (Ilex paraguariensis): A comprehensive review on chemistry, health implications, and technological considerations. Journal of Food Science. 2007;72(9):R138-R151.
Camfield DA, Silber BY, Scholey AB, Nolidin K, Coh A, Stough C. A randomized placebo-controlled trial to differentiate the acute cognitive and mood effects of chlorogenic acid from decaffeinated coffee. PLoS ONE. 2013;8(12):e82897. https://doi.org/10.1371/journal.pone.0082897.
Gao H, Liu Z, Qu X, Zhao Y. Effects of Yerba Mate tea (Ilex paraguariensis) on vascular endothelial function and liver lipoprotein receptor gene expression in hyperlipidemic rats. Fitoterapia. 2013;84:264-272.
Hills P, Argyle M. The Oxford Happiness Questionnaire: A compact scale for the measurement of psychological well-being. Personality and Individual Differences. 2002;33:1073-1082.
Cropley V, Croft R, Silber B, et al. Does coffee enriched with chlorogenic acids improve mood and cognition after acute administration in healthy elderly? A pilot study. Psychopharmacology. 2012;219:737-749.
THESE STATEMENTS HAVE NOT BEEN EVALUATED BY THE FOOD AND DRUG ADMINISTRATION. THIS PRODUCT IS NOT INTENDED TO DIAGNOSE, TREAT, CURE, OR PREVENT ANY DISEASE.
Click here to see the online listing at the Prescribers Desk Reference (PDR) website.
---
About the Physicians' Desk Reference (PDR)
For more than 70 years, medical specialists across the world have turned to the Physicians' Desk Reference (PDR) as the authoritative source of information on drugs and prescribed substances.
In 2019 the PDR became exclusively in a digital format called the Prescribers' Desk Reference (PDR), that continues to be utilized in virtually every physician's office, pharmacy, clinic, and library. No medical reference is more current, more recognized, or more respected. The PDR contains label information, dosage instructions, images, and more.
---
For more information on Unicity Unimate, visit:
---
Order Unicity Unimate at the lowest discounted Wholesale Pricing and Satisfaction Guaranteed!
Unicity Unimate
Yerba Mate Drink
1 Box | 30 Packets
Feel Better Than You Have In Years!
The Feel Great System
More Energy! Healthy Blood Sugar Levels! Weight Loss!
Even If Everything Else You Tried Before Has Failed!
Order today! 100% Satisfaction Guarantee!
Doug Collins, Independent Distributor
Text: 1-902-201-0245
Int'l Call/Text
Click the Message/Chat Button
Buy Now