Unicity Balance Fiber Matrix: Listed in the Prescribers' Desk Reference (PDR)
Nov 18, 2021
The original Unicity Balance formula, formally known as "Bios Life Diet" and "Bios Life Slim", was developed by scientists at the University of Santa Barbara in 1986. Since then, Balance has been extensively studied, peer-reviewed and published in the medical journals. That's why Bios Life 2 was first listed in the Physician's Desk Reference (PDR) in 2002.
Continued focus on clinical research has enabled Unicity to list 17 products in this prestigious reference for healthcare professionals. The recognition of Unicity Balance having been listed in the PDR for nearly two decades should bring encouragement and confidence to our mission in supporting a healthy lifestyle as part of the The Feel Great System.
UNICITY Balance (chrysanthemum morifolium/fiber/phytosterols/policosanol/unicity 7x) - Full Prescribing Information
Unicity International
UNICITY BALANCE™-
Unicity
----------
UNICITY BALANCE™
(Also known as Bios Life® Slim or Bios Life® S)
Formula for Healthy Cholestrerol Support
DESCRIPTION
Unicity Balance™ (also known as Bios Life® Slim or Bios Life® S) is a fiber-based, vitamin-rich nutritional supplement. Unicity Balance™ contains a blend of soluble and insoluble fibers, Unicity® 7× technology, phytosterols, policosanol, an extract of Chrysanthemum morifolium, vitamins, and minerals that when combined with a healthy diet and exercise may lower total serum cholesterol, and help achieve and maintain a healthy body weight.
Unicity Balance™ is light orange in color. It is a hygroscopic crystalline powder that is generally soluble in water. Each serving of Unicity Balance™ contains 4 g of fiber, 1 g of phytosterols, 750 mg of Unicity 7×, 6 mg of policosanol, and 12.5 mg of an extract of Chrysanthemum morifolium. In addition to these active ingredients, each serving of Unicity Balance™ contains maltodextrin, citric acid, orange juice powder, sweeteners, and orange flavor.
BENEFITS AND RESEARCH
It's estimated that Americans consume 10-12 g of total fiber per day, less than half the amount of the recommended daily intake. Epidemiological and clinical studies have correlated high daily fiber intake with an improvement in overall health.
Unicity Balance™ is a nutritional supplement designed to increase fiber intake. Each serving of Unicity Balance™ contains four grams of fiber. When taken three times daily, Unicity Balance™ contributes half of the recommended daily value of fiber. Fiber supplementation has been shown to decrease preprandial and postprandial glucose levels, lower LDL cholesterol and apolipoprotein B levels, increase satiety, and facilitate weight loss.
In addition to fiber supplementation, Unicity Balance™ contains a patented blend of phytosterols, policosanol, Chrysanthemum morifolium, vitamins, and minerals. Unicity Balance™ facilitates weight loss through five distinct mechanisms. First, the soluble fiber matrix promotes an increase in satiety. Second, Unicity Balance™ improves cholesterol levels. Reduction in LDL content removes a potent inhibitor of lipolysis. Third, Unicity Balance™ improves blood glucose levels. Appropriate serum glucose levels help maintain many metabolic processes in the body. Reducing insulin levels permits fatty acid oxidation to occur. Fourth, Unicity Balance™ restores appropriate leptin signaling. Lastly, Unicity Balance™ reduces triglyceride levels allowing for leptin to cross the blood-brain barrier and affect its mechanism of action.
SUGGESTED USAGE
Dissolve the contents of one packet or one scoop into 8 to 10 fl. oz. of liquid (water or juice) and stir vigorously. Drink immediately. Use 15-20 minutes before meals up to three times daily.
SAFETY AND WARNINGS
Unicity Balance™ is well tolerated. There may be mild gastrointestinal discomfort, such as increased flatulence or loose stools, during the first month of initial use due to the increased uptake of dietary fiber. This GI disturbance usually disappears within the first thirty days. If the GI discomfort persists, reduce the number of servings of Unicity Balance™. If the GI discomfort further persists, stop taking the product and consult your physician. Taking this product without adequate liquid can result in complications.
HOW SUPPLIED
Unicity Balance™ is packaged in single-serving foil packets or in bulk canisters.
REFERENCES
Sprecher, DL and Pearce GL (2002), Metabolism 51: 1166-70.
Verdegem, PJE; Freed, S and Joffe D (2005), American Diabetes Assocation 65th Scientific Sessions, San Diego, CA.
Slavin, JL, (2005) Nutrition 21: 411-418.
Delzenne NM, Cani PD, (2005) Current Opinion Clincal Nutrition & Metabolic Care 8: 636-640
Duenas, V; Duenas, J; Burke, E and Verdegem, PJE (2006), 7th International Conference on Arteriosclerosis, Thrombosis, and Vascular Biology, American Heart Association, Denver, CO.
Verdegem, PJE (2007), Current Topics in Nutraceutical Research 5: 1-6
US Patent 6,933,291.
* THESE STATEMENTS HAVE NOT BEEN EVALUATED BY THE FOOD AND DRUG ADMINISTRATION. THIS PRODUCT IS NOT INTENDED TO DIAGNOSE, TREAT, CURE, OR PREVENT ANY DISEASE.
Click here to see the online listing at the Prescribers Desk Reference (PDR) website.
---
About the Physicians' Desk Reference (PDR)
For more than 70 years, medical specialists across the world have turned to the Physicians' Desk Reference (PDR) as the authoritative source of information on drugs and prescribed substances.
In 2019 the PDR became exclusively in a digital format called the Prescribers' Desk Reference (PDR), that continues to be utilized in virtually every physician's office, pharmacy, clinic, and library. No medical reference is more current, more recognized, or more respected. The PDR contains label information, dosage instructions, images, and more.
For more information on Unicity Balance, visit:
---
Order Unicity Balance at the lowest discounted Wholesale Pricing and Satisfaction Guaranteed!
Unicity Balance.
Fiber Matrix Drink
1 Box | 60 Packets
Feel Better Than You Have In Years!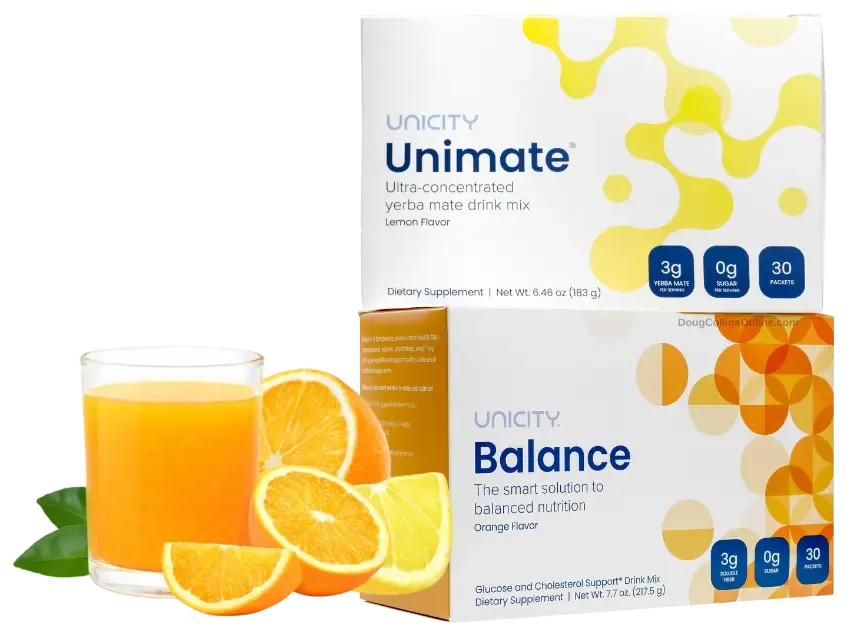 The Feel Great System
More Energy! Healthy Blood Sugar Levels! Weight Loss!
Even If Everything Else You Tried Before Has Failed!
Order today! 100% Satisfaction Guarantee!
Click the Message/Chat Button
Buy Now